Patient appointment and ANMC information
Confirmed cases of COVID-19 are reported by the Alaska Department of Health and Social Services, Division of Public Health. ANMC continues to assess current community spread and will sometimes modify our operations to keep our patients and staff safe. Please see current visitation and clinic updates below.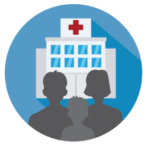 Temporary hospital visitor policy
We care deeply about the well-being of our patients, their families, and loved ones. To reduce the risk of infection and exposure, we are restricting visitors to our inpatient units and emergency department. (Updated May 3, 2022)
Effective May 3, 2022, the temporary visitation policy at ANMC changed to Level Yellow. Visitation will continue to be limited, but we are moving to this level to best support our patients' health and healing by permitting limited visitation and expanding visiting hours to 8 a.m.-9 p.m. Permitted visitor guidelines can be found in the matrix below.
For patients and visitors who need to access the ANMC hospital, the front rotunda entrance and sky bridge entrances are both open 7 a.m.-5 p.m. Monday-Friday. All other entrances are closed. After hours and on weekends, please enter through the Emergency Department or use the intercom at the sky bridge to page security for screening and entry.
We will utilize technology to connect family members whenever possible.
Thank you for your understanding and support in keeping our patients and staff healthy!

---
Current ANMC clinic status
ANMC Specialty Clinics are open and seeing patients.

Specialty Clinic
Notes
Phone number
Cardiology
(907) 729-4700
Dermatology
(907) 729-1500
Diabetes Program
(907) 729-1125
Ear, Nose & Throat
(907) 729-1400
Emergency Department & Trauma
907) 729-1729
Endocrinology
(907) 729-1500
Gastroenterology
(907) 729-1500
General Surgery
(907) 729-2700
Hepatitis & Liver Disease Program
(907) 729-1560 or 1-800-655-4837
Internal Medicine – General Medicine
(907) 729-1500 or 1-800-655-4837
Maternal-Fetal Medicine
(907) 729-1779
Nephrology
(907) 729-1500
Neurology
(907) 729-1500
Neurosurgery
(907) 729-2525
Obstetrics & Gynecology
(907) 729-3200
Ophthalmology
(907) 729-1400
Orthopedics
(907) 729-1600
Oncology & Hematology
(907) 729-1180
Pain Management
(907) 729-2525
Palliative Care
(907) 729-1112
Podiatry
(907) 729-4030
Physical Therapy
(907) 729-1249
Pulmonology Clinic, Sleep Center
and Pulmonary Function Lab
(907) 729-8141
Radiology
(907) 729-2300
Rheumatology
(907) 729-1500
Urology
(907) 729-2700
Walk-in Clinic
(907) 729-1500
---
Testing before a surgical procedure
In order to minimize rescheduling or canceling surgical procedures due to receiving a positive COVID-19 diagnosis for COVID-19 infection upon arrival in Anchorage, ANMC is strongly encouraging all patients, regardless of their vaccination status, to get tested prior to traveling to Anchorage (if testing is available in your area). When pre-travel testing is not available, ANMC will continue to conduct a test upon arrival in Anchorage, if the patient's arrival is 12 hours or more before the procedure and during testing site hours. This also helps ensure a patient's procedure does not have to be rescheduled and the patient has to stay in quarantine in Anchorage until their infection period has passed.
---
If you are in need of a medication refill, please use the following:
Have your medication mailed out by contacting the Medication Refill Hotline at (907) 729-2117
Curbside Pickup:

Contact the Pharmacy at (907) 729-4172 to arrange a pickup of your medications

Contact Primary Care Center at (907) 729-3300 to speak with an Integrated Pharmacist
---
How we're keeping patients and staff safe when on campus
At the Alaska Native Medical Center, we've been busy continuing to care for our people during the COVID-19 pandemic. We've also made some changes since your last visit.
The next time you visit our campus, be aware:
All patients are screened at the door and asked to wear face coverings. Please bring yours with you.
Staff are wearing face coverings at all times.
Clinic waiting room spaces are rearranged to ensure proper physical distancing.
The rotunda remains closed and other public seating areas are limited.
Seating in the cafeteria and other dining locations are closed to the public, but food options are available on campus for patients traveling to ANMC for care.
High-touch surfaces are frequently disinfected beyond regular cleaning processes and replaced when possible.
Other patient and staff precautions
Telehealth visits are offered whenever possible.
Our staff is fully vaccinated against COVID-19.
Patients admitted to the hospital will be tested for COVID-19, even if they don't have symptoms.
Patients with symptoms can get tested at the drive-thru or walk-up testing sites.
Housing and transportation options have been limited.
---
Other ANTHC programs
Many ANTHC in-person programs and services are canceled or being offered virtually. Programs may be available for video or phone consultation. Please contact the program for more information.