As Alaska's COVID-19 case numbers grow, resources to combat spread are decreasing
July 8, 2020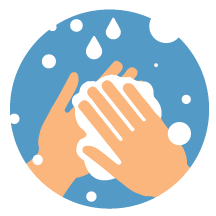 In recent weeks, the number of people with active cases of COVID-19 has steadily increased across Alaska (read more at State of Alaska data hub). As COVID-19 infection rates increase, so does the need for medical intervention. As a result, there is an increased number of patients requiring hospitalization at Alaska's hospitals, including at the Alaska Native Medical Center.
Increased spread of COVID-19 has decreased other hospital and public health resources meaning:
Fewer hospital beds available
Decreased capacity for public and Tribal health staff to track how COVID-19 is spread
Decreased availability of some COVID-19 testing supplies
How you can help slow the spread
When we take measures as a community to prevent COVID-19, we're helping decrease the burden on hospitals, health care workers and public health teams. We also decrease the overall cases and health impacts for everyone.
There are simple things that we can do to take care of those that take care of us. It takes a community to prevent and address issues such as COVID-19. More than 30% of adults in Alaska are at risk of serious illness if infected by COVID-19. Elders, health care workers, and other people at risk rely on the community to help keep them as safe as possible.
COVID-19 preventive measures:
Wear a mask or face covering when in public.
Keep extra masks in your car or bag, so you have it when you need it.
Reduce the number of people you are in close proximity with. This means physical distancing of 6-feet in public; reducing the number of social gatherings we attend; and limiting our social bubbles to a few trusted people.
Wash your hands regularly with soap and water.
Remember to disinfect frequently touched surfaces.
How COVID-19 spreads
COVID-19 is a virus and spreads from person to person, similarly to a cold or flu.
It's possible to be infectious with the virus days before getting sick and 10 days after you are exposed. During this time, it is possible for you to spread the virus to loved ones and other people that you come into close contact with, before you even feel sick at all. If you have symptoms, please stay home except to get tested.
The greater the number of days we can go without coming into physical contact with other people outside of our social bubbles, the greater chances we have to slow the spread of the virus. All ANMC patients and employees and members of their households, are eligible to get tested every seven days to ensure any infection is caught early so that we can make informed decisions. The earlier we know we are infected, and take appropriate actions, the more we can prevent infections in the future.
We're in this together – how you can help others
A public health crisis requires help from all of us. Here are some ways you can help protect the health of our communities across the state.
Wear a mask when in public.
Reduce the number of friends and family you are with physically.
Donate to organizations that help others.
Make masks and other items for use in hospitals.
Deliver groceries or other needed items to those who may not be able to safely leave their home.
Call and check in with Elders and other loved ones.
---
Browse More Stories
---
Share This Story