National Indian Health Board awards Alaska Blanket Exercise workshop at ANTHC
November 9, 2020
Categories:
In October, during a virtual session of the annual Heroes in Health awards, the National Indian Health Board (NIHB) honored ANTHC's Alaska Blanket Exercise workshop with an Area and Regional Impact Award in Outstanding Service for their invaluable service to Indian Country in behavioral health and cultural understanding.
The Alaska Blanket Exercise was developed in 2018 in partnership with KAIROS, a Canadian organization with a similar educational tool. Launched in early 2019, trained facilitators walk participants through the interactive learning tool designed to help the public understand Alaska Native history and continued impacts today.
"The [Alaska] Blanket Exercise helps people to really understand where our parents are coming from, where our grandparents are coming from, and what happened to our people in history," said Liz Sunnyboy, an Elder and Tribal healer who helps facilitate the exercise.
More than 1,000 people have walked through the guided program reliving true stories of Alaska Native people as Alaska's lands and cultures are colonized, first by Europeans and then by Americans. The blanket exercise is a way to foster critical understanding of Alaska Native history, colonization, historical trauma and how those historical traumas continue to have an impact on such things like physical and mental health today.
"It helps people to start talking and not be ashamed of what happened to them, but to use that to be the strength for other people," Sunnyboy said.
The NIHB Area and Regional Impact Award honors an individual, program or organization whose work has contributed to improving American Indian and Alaska Native health care or has affected change on an area or regional basis.
ANTHC is proud to celebrate the Alaska Blanket Exercise tool with ANTHC staff and the many volunteer facilitators who have shared these lessons with Tribal health partners, community organizations, Tribal entities, child welfare organizations, educational institutions and state employees.
These powerful conversations have resulted in major contributions toward improving Alaska Native and American Indian health.
Teisha Simmons, ANTHC Behavioral Health Aide Instructor and manager of the Alaska Blanket Exercise program accepted the award on behalf of the consortium.
"We've worked really hard to help people overcome [historical] trauma and increase resilience. It's been an amazing activity," said Simmons in her acceptance speech.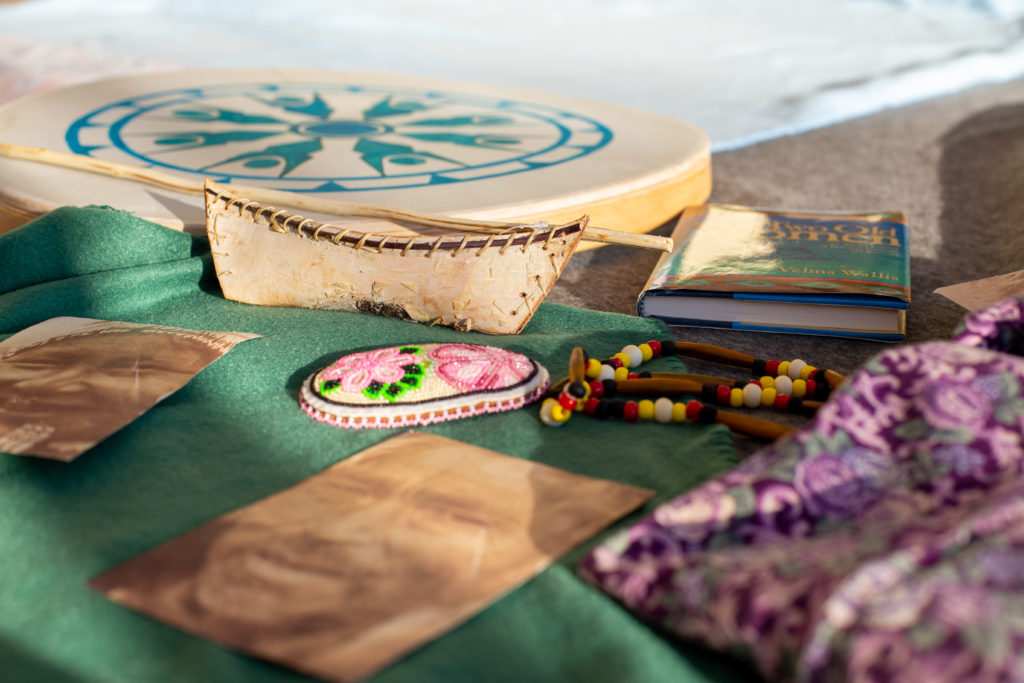 In 2020, there are many stories of health resilience, sacrifice and commitment across all Tribal communities. ANTHC is proud to be counted among those programs honored by the NIHB. Other Tribal health partners honored were Norton Sound Health Corporation Pharmacy Department and John Washington, a Certified Nursing Assistant and Emergency Medical Technician with Norton Sound Health Corporation.
The awards were presented during the Annual National Tribal Health Conference. The conference is the largest gathering focused on Tribal health in American Indian and Alaska Native communities. The conference focuses on exploring health policy and its impact on Tribes, advancing Tribal capacity to expand own policy work, and policy and political work in public, behavioral, and environmental health care.
For more information about the NIHB awards, visit the 2020 NIHB Heroes in Health Awards Gala information page.
For more information about the Alaska Blanket Exercise, read more in the article "To better understand the present, they walk through Alaska's past."
---
---
Browse More Stories
---
Share This Story