ANMC Travel Management Office: Working together to support our people on their journey toward health
December 7, 2020
More than 60% of our patients travel from outside the Anchorage area for specialty care, which requires diligent work and assistance from our Travel Management Office (TMO) teams. Each day, our TMO travel agents and prior authorization specialist teams coordinate travel and logistics for hundreds of patients from across Alaska.
The Travel Management Office (TMO) is comprised of 43 employees in four distinct sections who each work in different ways to serve and advocate for the people we serve. For some patients, travel means flying more than 700 air miles; for others, a ferry or small charter flight before catching a larger airplane to Anchorage.
The travel team coordinates with many large and small air carriers, while the prior authorization specialists work closely with our Specialty Clinics and within the State of Alaska Medicaid system as the Care Coordination Center processes more than 300 travel itineraries per week.
The Care Coordination Center is the call center for all of ANTHC. The center serves as the patient connection to ANMC, a conduit for on-call providers and call overhead pages and important notifications. This team also contacts patients, arranges housing, and processes appointment letters for patients whose travel is arranged through their own Tribal health organization (THO).
"This team has a vast knowledge bank and works well under pressure. They field calls ranging from logistical appointment questions and clinic locations, to taking questions about what's happening in the community, calls from people in distress, and calls reaching out for a myriad of help and resources," said Carol Dunn-Hale, Travel Management Director.
The Medicaid Prior Authorization team reviews all requests for travel from Medicaid beneficiaries for each THO except Bristol Bay Area Health Corporation, Tanana Chiefs Conference and Yukon-Kuskokwim Health Corporation – who have their own travel teams. All Medicaid travel begins with obtaining prior authorization as requested by the provider. The team reviews the request against the State of Alaska regulations and works closely with ANMC case managers, THOs and the State of Alaska.
The Patient Travel team coordinates travel across Alaska into Anchorage. They work closely with ANMC case managers, THOs and patients to provide the most direct and comfortable travel experience possible. This team coordinates travel via air – and when necessary ferry or road system – coordinates overnight accommodations if needed, and processes appointment letters. This team has gotten creative in the ways they support our people, even working to charter flights when there are no other options.
"The Patient Travel team recently reached out to everyone from a particular community who had upcoming appointments and were affected by the lack of a scheduled flight to ensure they made it to Anchorage for their appointment or their option to return back home following their care at ANMC," said Dunn-Hale. "They also worked with Specialty Clinics to coordinate patient appointments to fill the charter flights for greatest cost efficiency."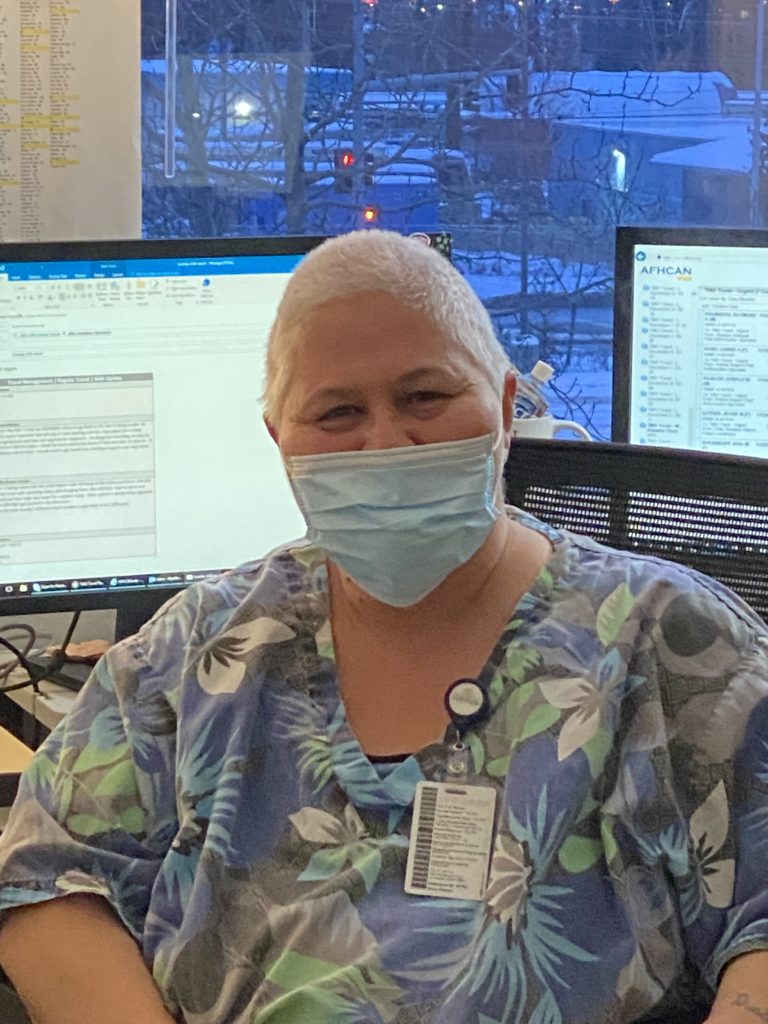 Sometimes ANMC patients are referred outside of Alaska for a higher level of care or specialized care and the Purchased/Referred Care (PRC) Travel team works in tandem with PRC case managers to coordinate out-of-state travel for these patients. This team contacts the patient and obtains their travel and accommodations preferences and is responsible for booking the airline travel, hotel accommodations, ground transportation and providing meal cards. The team also processes and provides appointment letters and statements of understanding for our PRC patients.
"Our travel teams work as advocates for our patients. They communicate with Specialty Clinics to consolidate appointments when appropriate and book extensions when medical care necessitates. Their end goal is for a seamless and stress-free travel experience for our patients and their escorts," said Dunn-Hale.
COVID-19 has impacted each of the travel office teams— decreased flight availability and airline closures have left some communities with reduced or an absence of any scheduled flights. Medicaid requirements have changed and now require letters of medical necessity for nearly every travel and ground transportation request. The Call Center is staying apprised of changing travel restrictions and ANMC policies and procedures to accurately relay to our patients. The Call Center team is also reminding callers about the mask or face-covering requirement on campus and to prepare for mandatory screening prior to entering any building on the Alaska Native Health Campus. In other areas, travel management staff cross-trained employees to maintain operations 24/7.
"These teams have become closer while being physically distanced," said Dunn-Hale. "They are giving each other homemade masks, picking up extra hard-to-find items at the grocery store in order to share with each other, and checking in with each other about their respective families."
Travel management and their teams are also committed to ensuring THO partners are aware of any travel or Medicaid requirement changes. These teams model empathetic and customer-focused service by listening and understanding patient needs and addressing heightened travel concerns resulting from this pandemic.
"There is certainly fear and anxiety surrounding the COVID-19 pandemic. Many people are hesitant to travel. Our employees work to calm our patients and take the time to explain ways to travel safely. We also let them know we are taking all necessary safety precautions," said Dunn-Hale. "The TMO team understands it is the Native way of life to depend on each other, to look out for and advocate for those who cannot do it themselves. Our teams are part of a much larger community working toward ANTHC's vision that Alaska Native people are the healthiest people in the world."
---
---
Browse More Stories
---
Share This Story