ANTHC employees Miriam Goodson and Whitney Powell, RN honored with DAISY and BEE Awards
January 9, 2023
Congratulations to ANMC DAISY Award winner, Miriam Goodson and ANMC BEE (Being Excellent Every Day) Award Winner, Whitney Powell RN. DAISY and BEE Awards are considered from nominations received directly from patients and colleagues. Goodson and Powell were nominated by a co-worker and patient guardian, respectively.
ANMC's nurses provide culturally appropriate, family-centered care in a unique hospital environment, and they are constantly seeking ways to improve services and care we provide. In an effort to further recognize the outstanding work of our nurses, ANMC partnered with the DAISY Award, an international program that celebrates the extraordinary clinical skill and compassionate care provided by nurses every day.
Goodson's nominator wrote: "Miriam is always kind and respectful to patients. I believe she genuinely cares about their well-being and safety. She is never afraid to speak up when she feels like something is wrong. She is undoubtedly the MOST reliable resource in the department. She will completely stock the department then jump into a trauma, run labs do the EKG, bring blood in a quick and flawless manor. She is also responsible for precepting and will train almost every new technician, there isn't an RN, Charge RN, CSS or Manager who doesn't value her skills and abilities."
Powell's nominator wrote: "Whitney helped make sure my son would get seen today. She's really nice and goes above and beyond. She helped get my son's pre-op done. I'm thankful my son got his surgery completed."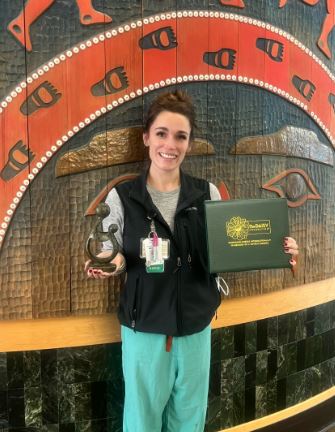 Patients, their families and fellow ANMC staff can nominate nurses for DAISY Awards. Nomination forms and collection boxes have been placed throughout the ANMC hospital. Nurses who are nominated for and receive the DAISY Award go above and beyond in caring for their patients.
Each DAISY Award honoree is recognized quarterly at a public ceremony in their unit or department. For more information about the DAISY Award program, please visit www.DAISYfoundation.org. For questions about nominating an ANMC nurse, please email Cheryl George at clgeorge@anthc.org or Renee Stephens at rcstephens@anthc.org.
---
Browse More Stories
---
Share This Story