Healthy choices for you and your family – choose healthy drinks!
March 31, 2021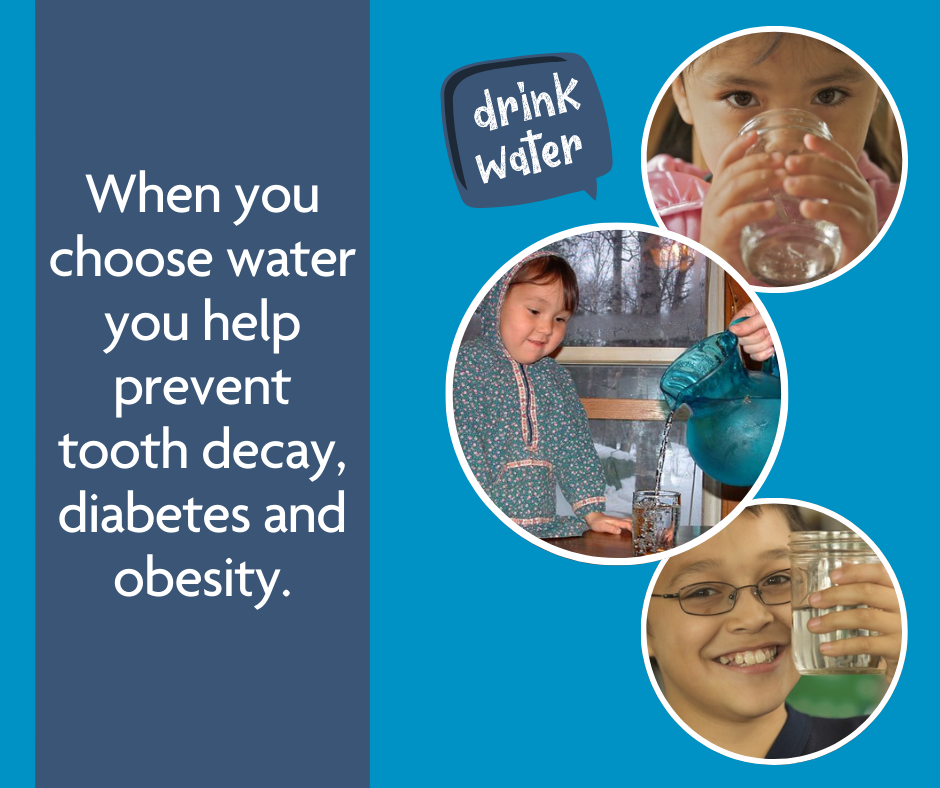 Small changes can make a big impact for you and your family. Choose healthy drinks for a variety of healthy lifestyle benefits.

One of the easiest changes to make is to swap out sugar-sweetened beverages for healthier drinks such as water.  By choosing water more often, we can prevent tooth decay, diabetes and obesity.

When focusing on health, parents often try to switch out sugary foods but are often unaware of how much added sugar their children (and themselves) are consuming through what we drink. The chart below outlines how much sugar is in some common drinks/beverages:

| DRINK/BEVERAGE | SUGAR AMOUNT |
| --- | --- |
| Water | 0 teaspoons sugar |
| 20-ounce soda | 16 teaspoons sugar |
| 16-ounce powdered orange drink | 11 teaspoons sugar |
| 20-ounce sports drink | 8.5 teaspoons sugar |
*The recommended daily limit for sugar is less than 12 teaspoons (10% of 2000 calorie diet)

Ideas to help the entire family cut excess sugar consumption:
Share water at mealtime.
Carry water with you – make it easier to choose water by buying bottled water or carrying a water bottle with you.
Cut back on buying sugary drinks.
Read beverage and food labels with your family – point out the serving size for the food or beverage, compare that serving to what you are drinking, check out the amount of sugar in each serving and help children to recognize all the ingredient names for sugar.
Support efforts to reduce sugar-sweetened beverages offered at school, work and other community events.
For more information on ways to reduce excess sugar consumption and to find ideas to incorporate healthy and fun family activities visit the State of Alaska's Play Every Day website or visit ANTHC's Diabetes Wellness Program.
---
Browse More Stories
---
Share This Story