New travel size manikins allow for in-person training
December 2, 2020
Categories:
The Alaska Native Tribal Health Consortium received grant funding for a new pediatric simulation dolls and training from the Healthy Alaska Natives Foundation (HANF) Foundation.
The new pediatric simulation dolls are also known as high-fidelity manikins. These dolls incorporate the latest in computer hardware technology and can be programmed to provide a realistic full-body patient presentation. Training with these high-fidelity dolls can be used in high-stakes learning scenarios such as mock codes, simulates seizures, or mass-casualty incidents.
Students' shared that the simulation dolls and trainings helped them understand and apply training giving them a hands-on approach to learning.
"These new high-fidelity dolls work over Wi-Fi and transmit simulated vital signs, generate heartbeats, breathing sounds, blinking, you can see the chest rise and fall and you can conduct compressions. Nurses can put defibrillation pads on the manikins that shock the manikins," said Susan Romero ANTHC'S Pediatric Critical Care Nurse Practitioner and Pediatric Simulation Director.

The doll with the white bow is about the size of a one-year old baby or toddler and allows for more realistic training on smaller children. Additionally, the smaller size of the manikins will improve access to pediatric simulation trainings throughout rural Alaska.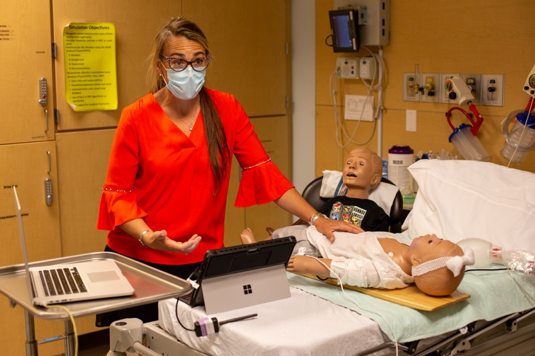 "The plan is to travel around the state and train healthcare staff in remote areas with these dolls. We also want to train staff within the hospital," said Romero

Provider's continued practice and training will ultimately improve the quality of care for Alaska Native children. The goal of this project is to allow providers in local, regional and village settings the ability to train for the care of critically ill children.
ANTHC's Pediatric Simulation Program (PSP) seeks to improve health equity for all Alaskan Native children by improving the critical care training of Alaska's pediatric providers. The overall goal is to decrease the morbidity and mortality rates associated with pediatric critical illness.

Info about HANF here or visit https://inspiringgoodhealth.org/

---
---
Browse More Stories
---
Share This Story