Safe medication disposal supplies for your community available online
March 12, 2018
Categories:
When prescribed by a provider and taken properly, medications can help us heal. But what do we do if there's leftover medications from our prescriptions?
Our people and communities in Alaska can now order medication deactivation supplies online to help reduce the chances for prescription drug misuse. To order the safe medication deactivation and disposal supplies, go to https://www.iknowmine.org/provider-materials/safe-medicine.
There you'll find two types of safe medication disposal.
The medication mail back bag is a prepaid envelope where medications are placed and mailed to be safely incinerated. The mail back bag is a wonderful tool in areas with regular and reliable mail service.
The other options are deactivation bags and buckets from Deterra. They come in medium, large and extra-large pouches as well as 3.5-and 5-gallon buckets. These are environmentally safe systems for deactivating drugs and secure to throw away. The pouches will biodegrade in a landfill or dump. Deactivation can be easily and safely implemented in rural, remote villages with limited mail service or limited law enforcement. This is a good solution to safely dispose of old, expired or unused medicines. See the chart below for bag/bucket disposal sizes. Learn more about the Deterra deactivation system, here: http://deterrasystem.com/faq/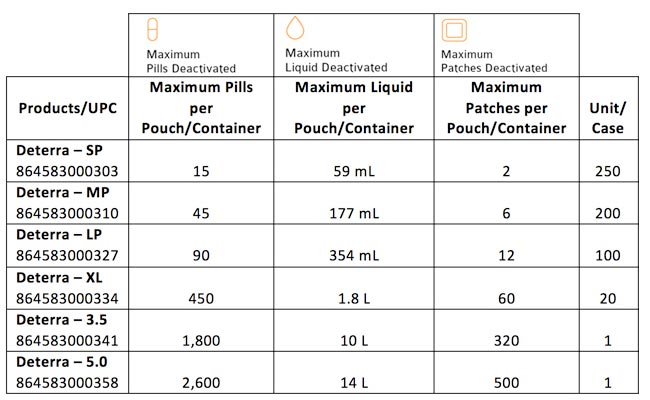 Alaska Native Tribal Health Consortium's Substance Abuse Prevention Initiative is committed to assisting rural Alaskan communities develop local solutions to address and prevent the misuse of drugs and alcohol.
These items are part of a larger group of resources that community members and providers can access to promote safe medicine use, healthy homes and communities.
ANTHC developed a public service announcement related to poison prevention, specifically focused on safe storage of medicine and alcohol. The video can be seen on YouTube, here: https://youtu.be/QleVKIXGrIk.
ANTHC Substance Abuse Prevention Initiative has an educational PowerPoint presentation about prescription drug abuse that includes Alaska-specific data. If you are interested in an electronic version, we can send you a flash drive upon request. Contact Lakota Holman, ANTHC Substance Abuse Prevention Program Senior Manager, at (907) 729-3547 for a copy of the presentation.
By reducing unintended access to drugs and alcohol in our homes, we help keep our families and communities safe. Lock up your drugs and alcohol products. If medicines are unused or expired, please take time to dispose of them in a safe way. If you or someone you know is misusing prescription drugs or alcohol, visit: https://www.anthc.org/what-we-do/behavioral-health/substance-abuse-prevention/.
---
Browse More Stories
---
Share This Story