What We Do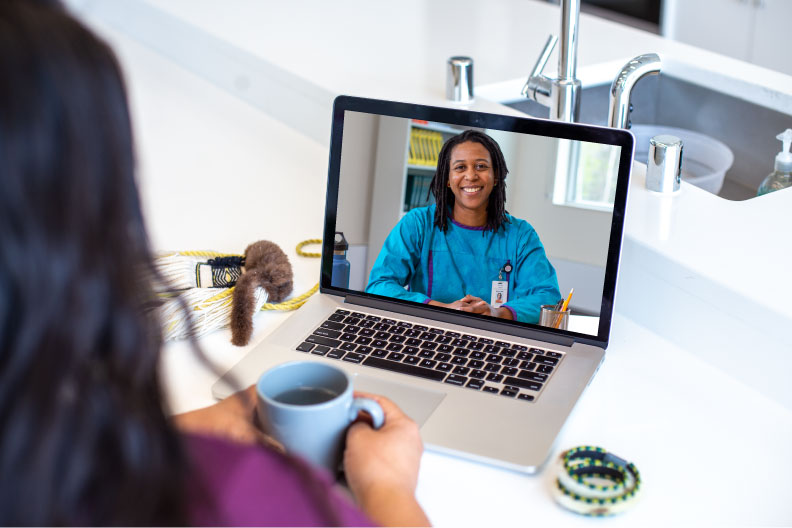 The Behavioral Health Wellness Clinic provides all services in a private and confidential manner. Even though all services are delivered via telehealth, clients must be physically in Alaska at the time of their appointment. We ask clients to check-in to their appointments 5 minutes before the scheduled start time. All Group Counseling services will close 5 minutes after the scheduled start time to minimize distractions for others present.
Available services:
---
Behavioral Health Assessments
At a behavioral health assessment appointment, a provider will spend time getting to know you and learning about your lifestyle, personal history, and your current areas of concern. The provider will then use the information to provide you with options that can help improve your current concerns, challenges, and symptoms (counseling, medications, Elder mentorship, etc.).
Duration: Between 1 and 1.5 hours per appointment
---
Individual Counseling
In individual counseling, a provider will work with you one-on-one to help you meet your needs and work on things that are bothering you. Individual counseling can help address a variety of topics including depression, anxiety, post-traumatic stress disorder (PTSD), grief and loss, family and relationship difficulties, life changes, substance use, body image, sexual health, feeling stuck in life, etc. Individual counseling can be just a few appointments or a few months long.
Duration: Between 30 minutes and 1 hour per appointment
---
Group Counseling
The clinic offers a variety of group sessions to learn life skills to help individuals learn skills to cope with anxiety, depression, grief/loss, stress, trauma, and substance use. In group counseling, a provider works with a group of individuals who are experiencing similar concerns. Group members discuss their experiences and learn skills to help address their concerns and symptoms. Group sessions are a great way to connect with and learn from others who understand what you are going through.
To register for our groups and for more information on services we provide, call us at (907) 729-2492 or complete an online intake and one of our staff will contact you to discuss the best options for you.
Duration: 1 hour per appointment
Days: Thursday from 9-9:50 a.m.
Wednesday from 12noon-12:50 p.m.
For: Anxiety, Depression, & Stress
This group provides you with practical skills and techniques for addressing symptoms of anxiety, depression, and stress. You will be engaged in activities that help identify patterns in your thoughts and behaviors as well as meaningful ways to increase your well-being.
Days: Wednesday
Times: 4 -4:50 p.m.
For: Substance Use
ACT on Your Recovery Group flier
This group offers you space to reflect on the function alcohol and/or drug use has in your life and receive support with your recovery goals, utilizing the Acceptance and Commitment Therapy (ACT) approach. In this group, you will be invited to engage in mindfulness exercises, practice strategies for managing triggers, and develop more compassion for yourself in the process. You will have the opportunity to explore and define what matters to you (your values) and take a stand for these values in your life related to recovery.
Whether your goals are to reduce use, abstain, or you are curious about life in recovery, you are welcome here.
Weekly topics include:
Willingness vs. Willpower
Setting a Course
Dealing with Obstacles
Responding to Relapse
Self-Compassion
Days: Monday from 12noon-12:30 p.m.
Wednesday from 9-9:30 a.m.
For: Anxiety, Depression, Stress, Trauma, Pain
This group engages you in a variety of mindfulness exercises at each session. Exercises include meditation, guided imagery, breathing methods, and other practices to help relax the body and mind, reduce stress, and improve well-being. You will learn how to focus on what you are sensing in the moment without judgment as well as techniques to bring relief to symptoms you are experiencing.
Days: Thursday
Times: 12noon-1 p.m.
For: Substance Use, Trauma
This group helps you work towards safety in your life, letting go of dangerous relationships, feeling control of your trauma and substance use symptoms, and discontinuing your substance use. You are not required to recount specific traumas. The emphasis of this group is on teaching and practicing skills that you can use right away to address symptoms of trauma and substance use.
Days: Monday
Times: 4-4:50 p.m.
For: Relationship Skills
Healthy Relationships Group flier
Each week, in a provider-led group, we identify key components to a healthy romantic relationship, offer a space to reflect, and practice skills that support you in real-life situations. Whether you are entering a new relationship or strengthening a long-term partnership, this group is a place for you to share and receive encouragement with others who have similar goals.
Topics include:
Identifying and expressing emotions
Practicing positive conflict resolution
Establishing and maintaining boundaries
Exploring decision-making styles
Building a stronger connection
Loving your relationship
Days: Thursday
Times: 4-4:50 p.m.
For: Grief Support
This drop-in group offers you support following the death of a loved one. In a supportive setting, you will engage in both listening and sharing to the extent you are comfortable. Each session will provide space to process loss, learn about skills for coping, and set grief aside for small amounts of time to focus on self-care activities.
Days: Tuesday
Times: 4-5:30 p.m.
For: Complicated Grief
Complicated grief is persistent and unrelenting grief that interferes with a person's life, affecting their daily functioning, relationships, ability to work, and finding meaning in life after the death of a loved one.
This provider-led group is offered as a series of 12 weekly sessions for those experiencing complicated grief. In a supportive setting, participants identify their "stuck" points, learn strategies to address them, and practice activities to help adjust to their loss. Group members benefit from listening, sharing their experiences (to the extent they are comfortable), and being with others who are also experiencing complicated grief. The content in each session builds off prior sessions in the sequence. BHWC staff will meet with those interested in participating to ensure the best fit for their current situation and grief.
---
Health Behavior Coaching
Health behavior coaching can help you learn skills to manage health concerns and chronic illnesses by helping you change behaviors that might be getting in the way of your physical wellness. A provider can help you with topics like sleep, weight management, pain, tobacco cessation, and exercise, among others. A provider will help you process things that might be getting in the way of healthy behavior and suggest tips and tricks for achieving your physical health goals.
Duration: Between 30 minutes and 1 hour per appointment
---
Referral Support
If you are interested in resources or treatment facilities outside of this clinic, a provider will meet with you to connect you to additional agencies and treatment centers to help you meet your goals. The provider will present you with options and assist you in completing paperwork and the necessary steps to get to where you would like to go.
Duration: Between 1 and 1.5 hours per appointment
---