Mukluk Telegraph Winter 2022

IN THIS ISSUE
---
TINITUN: Pathways to health
The Alaska Native Tribal Health Consortium (ANTHC) and Southcentral Foundation (SCF) have launched Tinitun, a mobile app that helps campus visitors locate providers or clinics with ease, discover campus food options, find the nearest shuttle, mark the location of their parked cars and more. The Tinitun app includes indoor turn-by-turn directions inside the Alaska Native Medical Center (ANMC) hospital, specialty clinics and Anchorage Native Primary Care Center.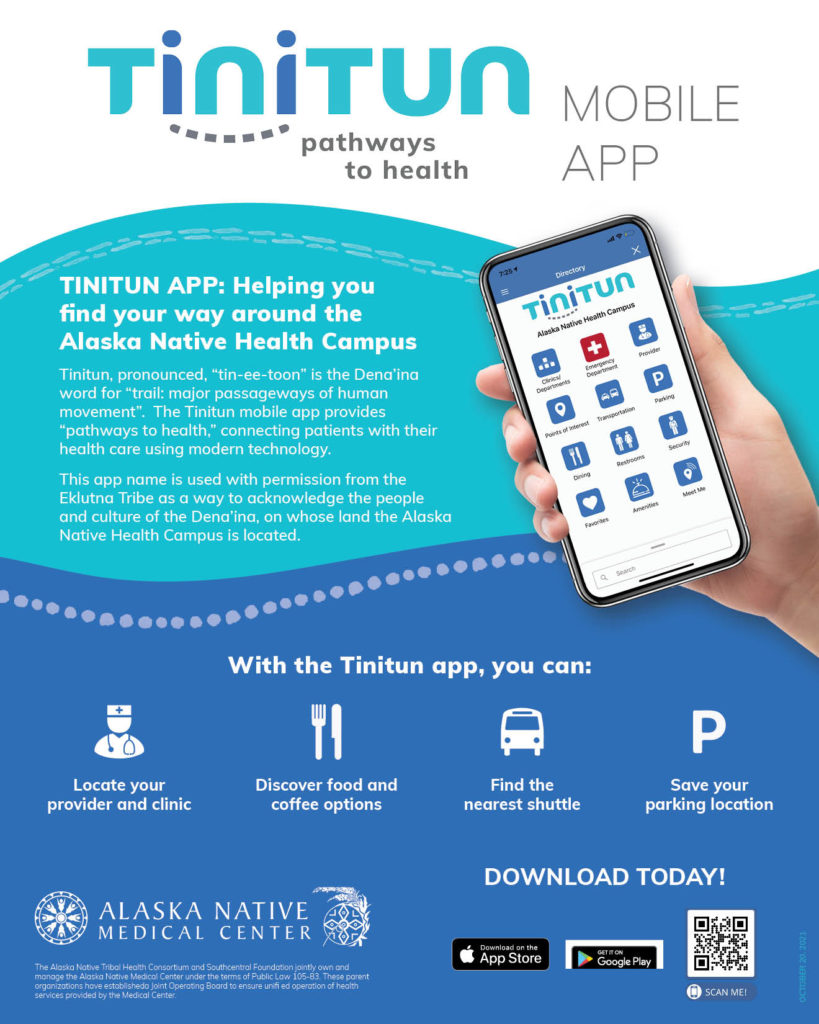 The Tinitun app, the first of its kind in Alaska, is available for download in the Apple and Google Play stores for Apple or Android smartphones. It is also accessible by desktop, mobile browser and on-site kiosks. Kiosks are available at the Patient Housing at ANMC lobby, the main rotunda entrance of the ANMC hospital, the Healthy Communities Building lobby, and Anchorage Native Primary Care Center main and 2 East entrances. Additional kiosks are planned for future locations.
Tinitun (pronounced, "tin-ee-toon") is the Dena'ina word for "trail: major passageways of human movement." With permission from the Native Village of Eklutna on whose land the Alaska Native Health Campus is situated, the name Tinitun acknowledges the Dena'ina people. It also describes the app's function: connecting those we serve with their health care using modern technology and multiple pathways based on their individual choices.
"Thank you to our patients for their valuable feedback which led to this solution," said Allison Knox, Vice President of Customer Experience at ANMC. "The goal is to help our patients navigate our health campus and access information about transportation, our clinics, patient housing and associated care coordination services to help ensure the best experience possible for our patients."
For more information, or to access Tinitun from your computer visit https://anmc.org/tinitun/.
---
ANTHC 2021 Annual Meeting

The 2021 ANTHC Annual Meeting was held virtually via Zoom as a COVID-19 safety precaution. The full recorded meeting is available to watch online if you were not able to attend.
Visit our information site at anthc.org/annualmeeting to learn more about our work, health services and ongoing response to the COVID-19 pandemic in 2021.
---
March is Colorectal Cancer Awareness Month
March is Colorectal Cancer Awareness Month; colorectal cancer is one of the most frequently diagnosed cancers among Alaska Native people. Colorectal cancer is cancer that grows slowly in the large intestine (colon) and rectum, but it is also preventable and treatable. Early colorectal cancer has no symptoms, which is why screenings are so important. Screenings help discover pre-cancerous growths, which can be easily removed. Colorectal cancer is very treatable when found at an early stage.

5 ways you can reduce the risk of colorectal cancer: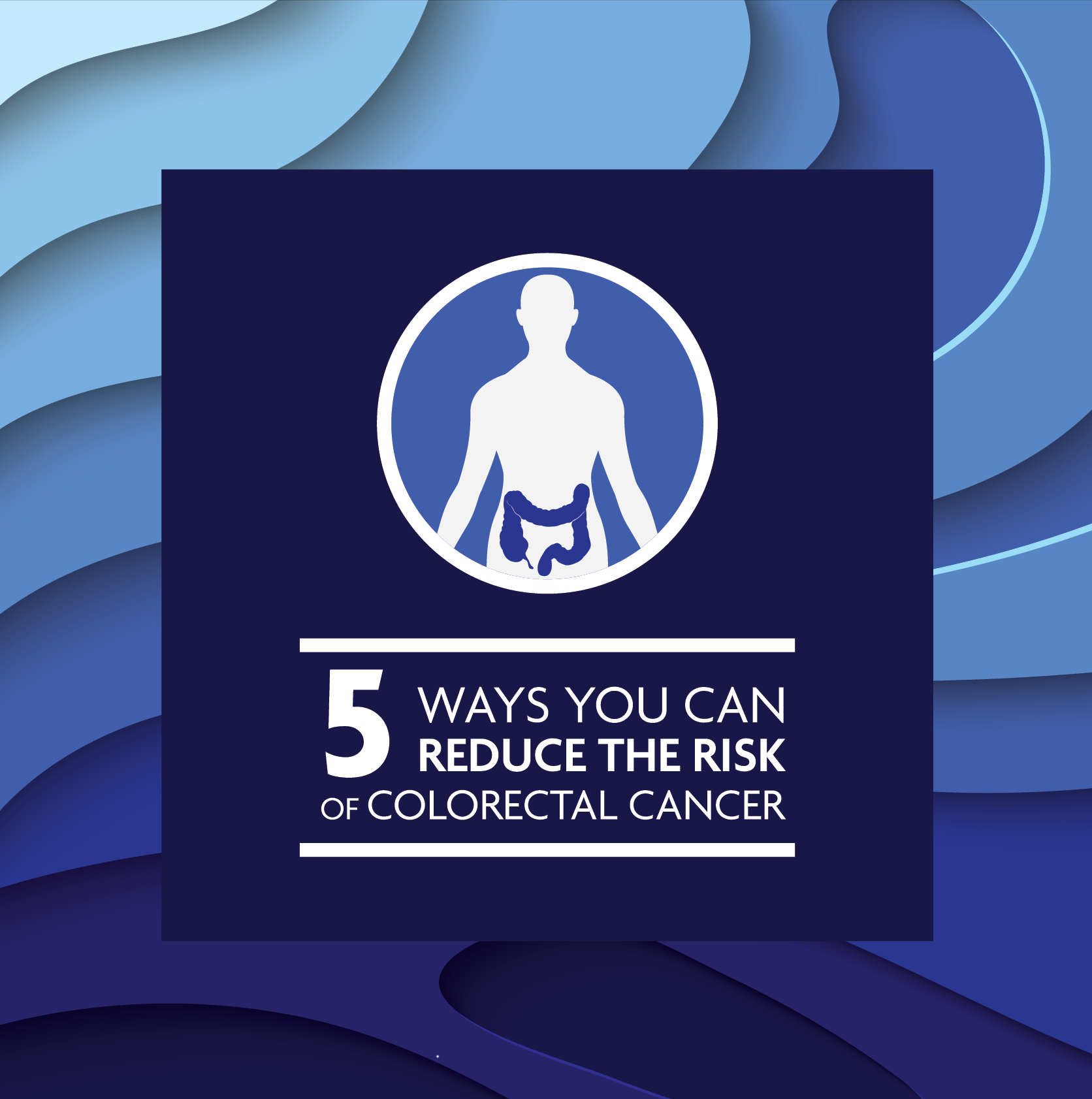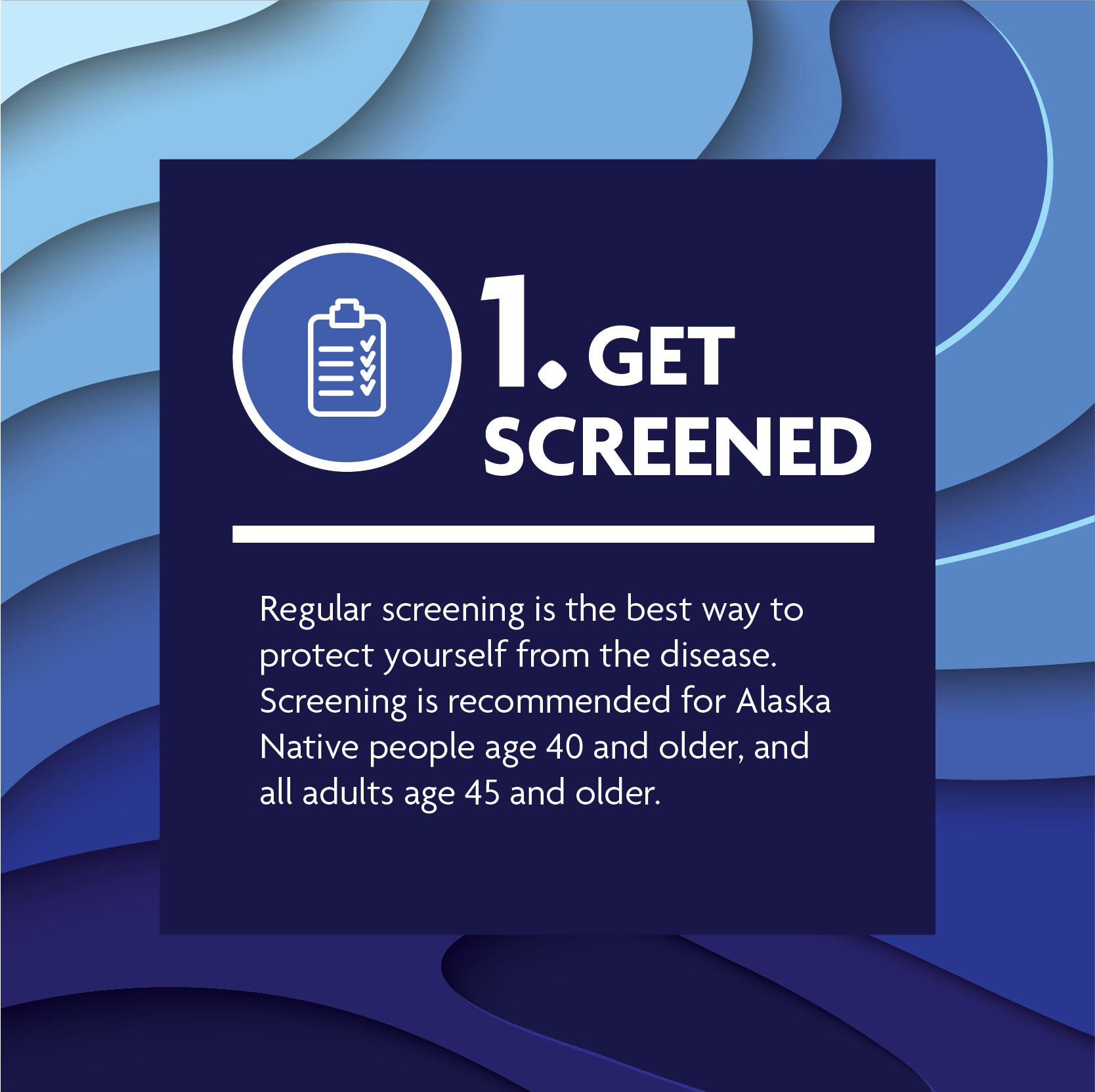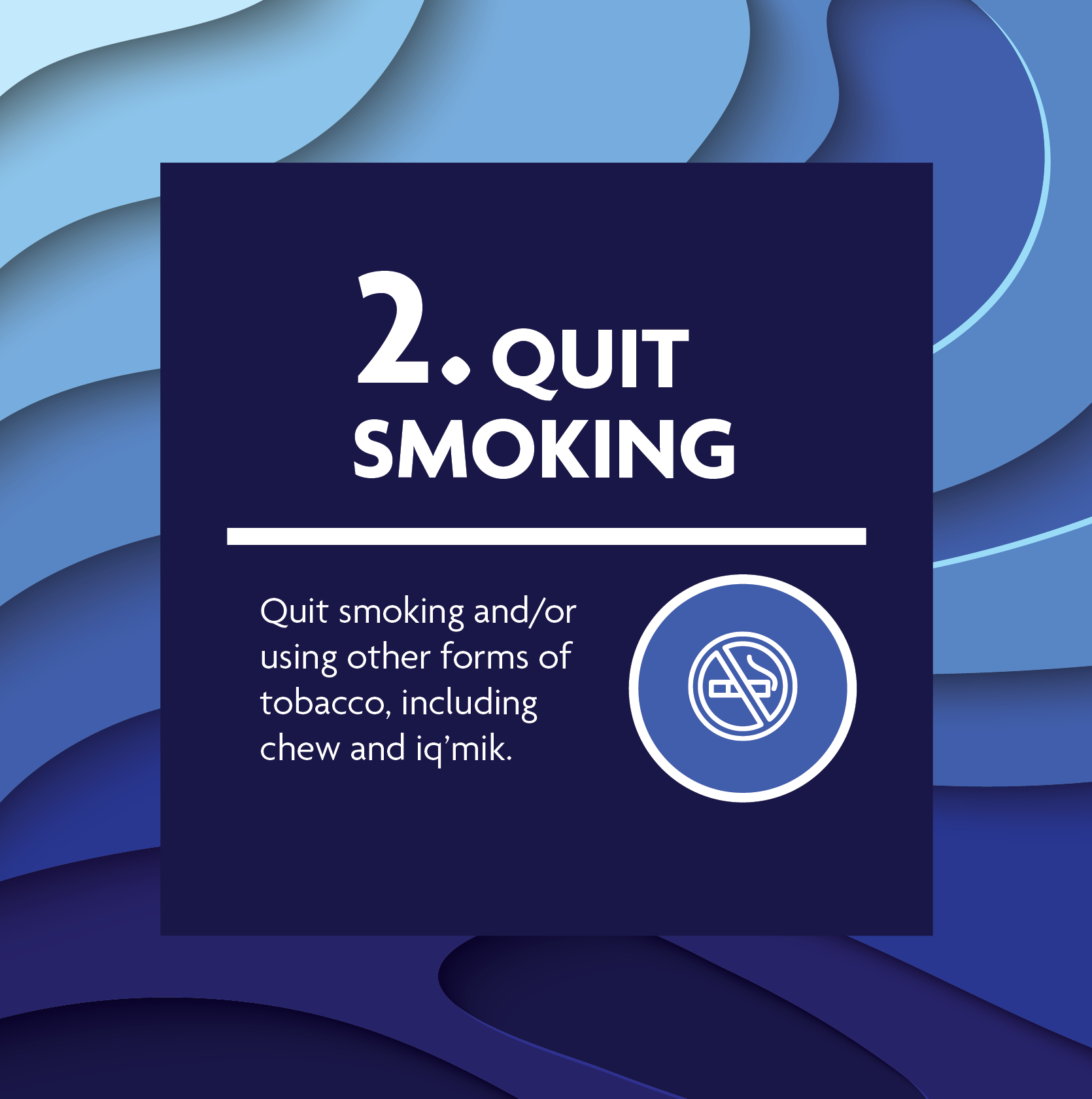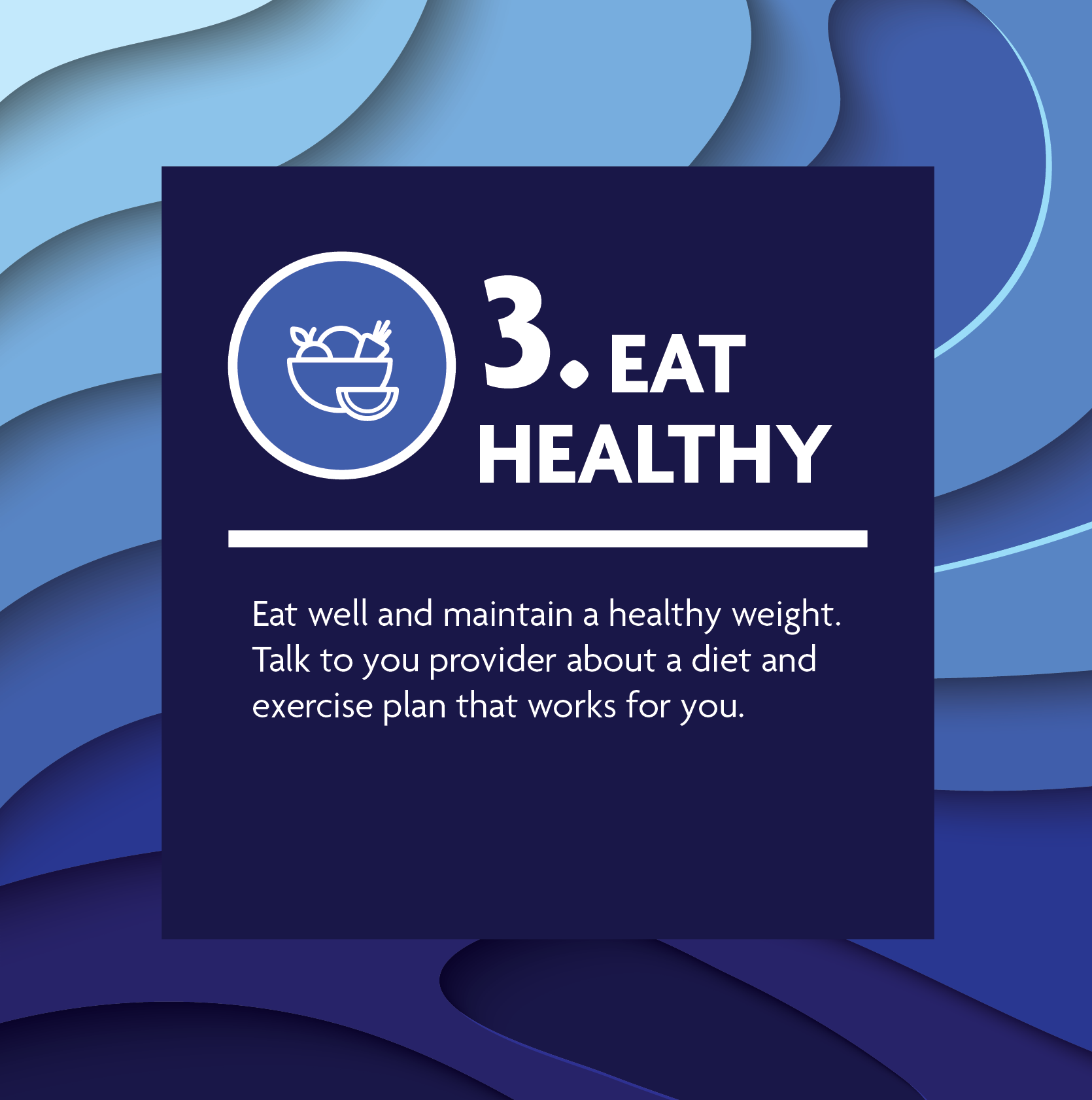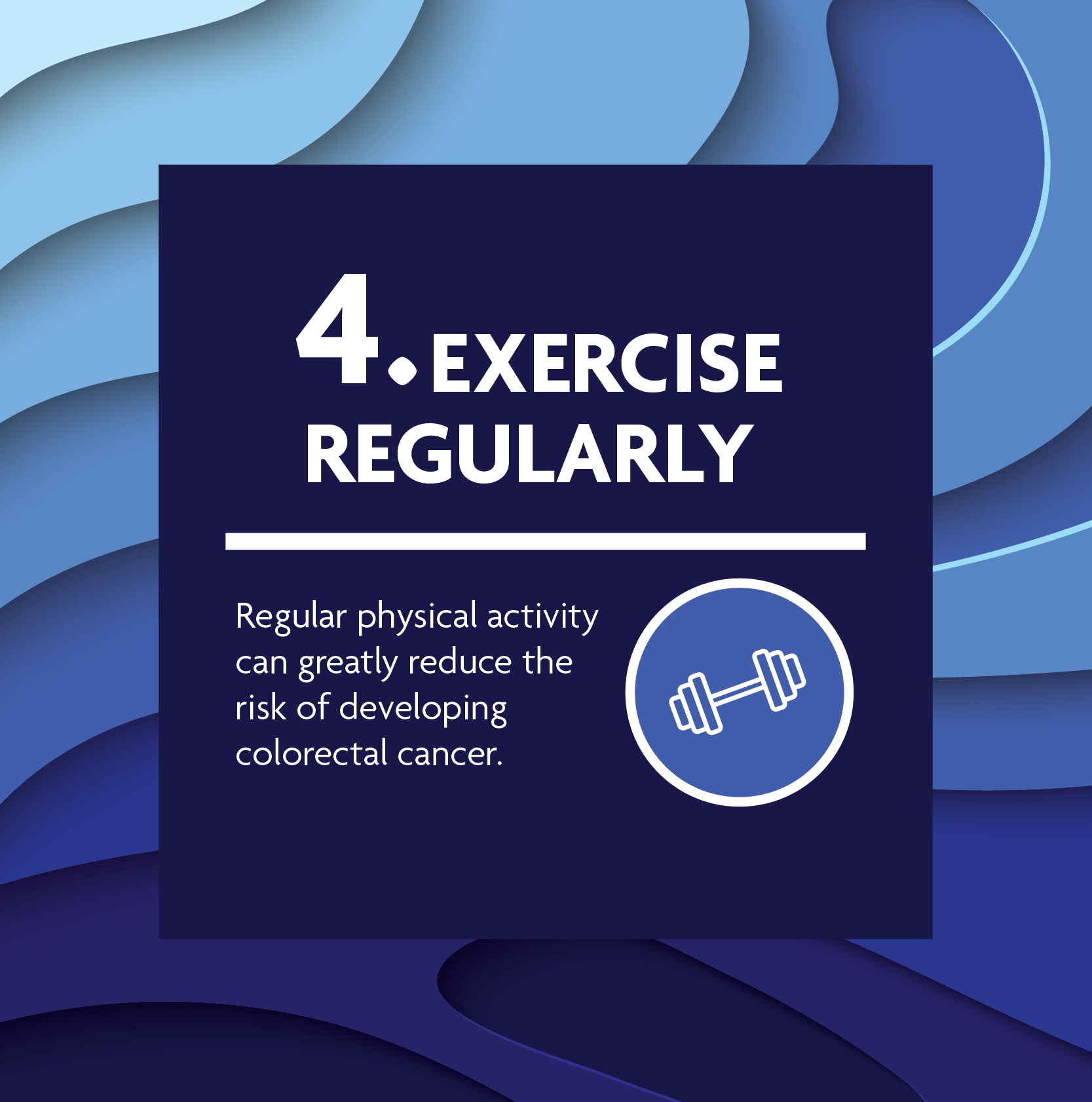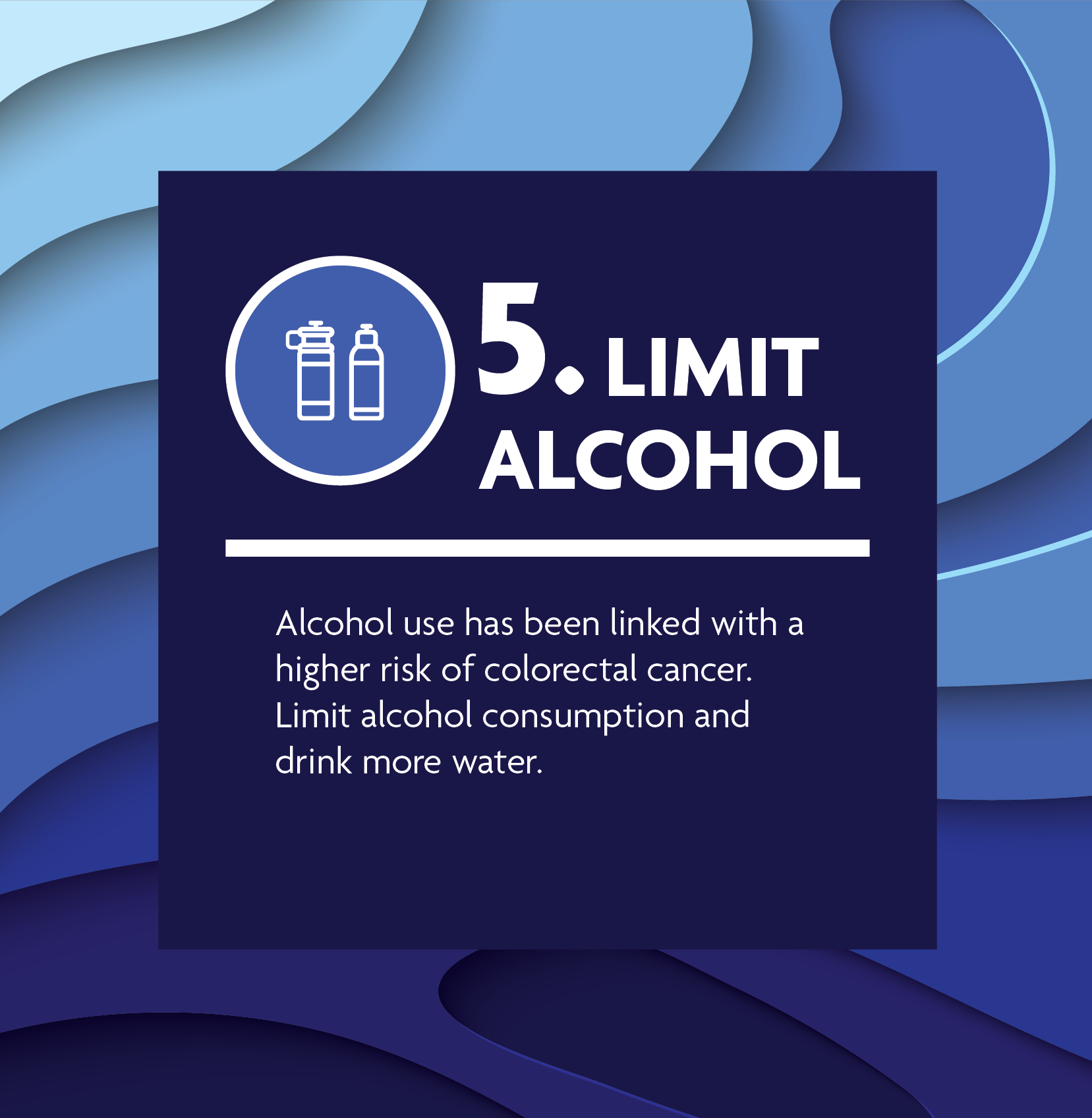 Although our people have made great progress in colorectal cancer screening and prevention, more work remains to stop this disease. In fact, the rates of new cases of cancer and deaths due to this disease are twice as high among Alaska Native people as U.S. whites. The Alaska Native Tribal Health Consortium recommends that Alaska Native people start receiving screenings at age 40. There are several screening options available, so it is important to talk with your provider about which screening test is right for you.
For more information about ANTHC's Cancer Program, visit www.anthc.org/cancer or here.
---
Keep your home safe during National Poison Prevention Week 2022
National Poison Prevention Week is March 20-26 and serves as a reminder to think about keeping your home and family safe from harmful poisons. A growing risk to our health is unintentional poisonings or a harmful outcome that was unplanned, especially from substances people do not often think of as poisons – the misuse of medication, drugs and alcohol.
To reduce the risks of poisoning, ANTHC's Behavioral Health and Injury Prevention recommend keeping medications and alcohol in a safe place, such as a locked cabinet or locking container. Do not share your medicine or take drugs that are not prescribed to you. Monitor and count pills, so you are aware if any are missing.
Some communities and pharmacies have resources to safely dispose of unused medication. If you are prescribed medication, ask your provider about your community's drug take-back programs. National Prescription Drug Take-Back Day lists officially registered sites here.
Accidental poisoning from prescription medications, especially opioids, has been on the rise in Alaska. These harmful poisons are having a devastating impact on our Native community. From 2002-2011, all types of prescription and illicit drugs accounted for 51 percent of poisoning deaths for Alaska Native people; alcohol by itself accounted for 41 percent. The 2014-2015 drug poisoning (illicit and prescription) rate among Alaska Native people was 57 percent higher than the 2012-13 rate (data source: Alaska Bureau of Vital Statistics).
This PSA was supported by the Healthy Alaska Natives Foundation and championed by the ANTHC Injury Prevention Program and Behavioral Health's Substance Abuse Prevention Initiative.
If you are concerned you or someone you know may be misusing prescription opioids or alcohol, help is available. Get immediate help from a local poison expert by calling the Poison Help Hotline at 1-800-222-1222. Visit the Alaska Poison Control System website.
You can order disposal or deactivation bags and buckets to get rid of your unused or expired medicine, through iknowmine.org. Contact ANTHC's Substance Abuse and Prevention at (907) 729-3547 or email behavioralhealth@anthc.org.
Learn more about ANTHC Injury Prevention at www.anthc.org/injuryprevention.
---
February is American Heart Month
As the number two cause of death for Alaska Native and American Indian people, heart disease affects all ages and genders. Do you know how to keep your heart healthy?
---
For Alaska Native people, COVID-19 arrived with shadows of the past
From smallpox in the 19th century to the 1918 influenza pandemic to H1N1 in the early 2000s, infectious diseases have typically had an outsize impact on Alaska Native communities.
Until the establishment of the Alaska Native Tribal Health Consortium in the late 1990s, Tribal health directives came from the Indian Health Service headquarters in Rockville, Maryland, and they were based on what was happening in Indigenous communities around the country. That one-size-fits-all approach often failed in Alaska, which has very different needs and challenges than other Indigenous communities in the U.S. In 2020, as COVID-19 began to overtake hospitals across the country, Alaska's Tribal health entities began working together to share information and develop a plan for statewide response.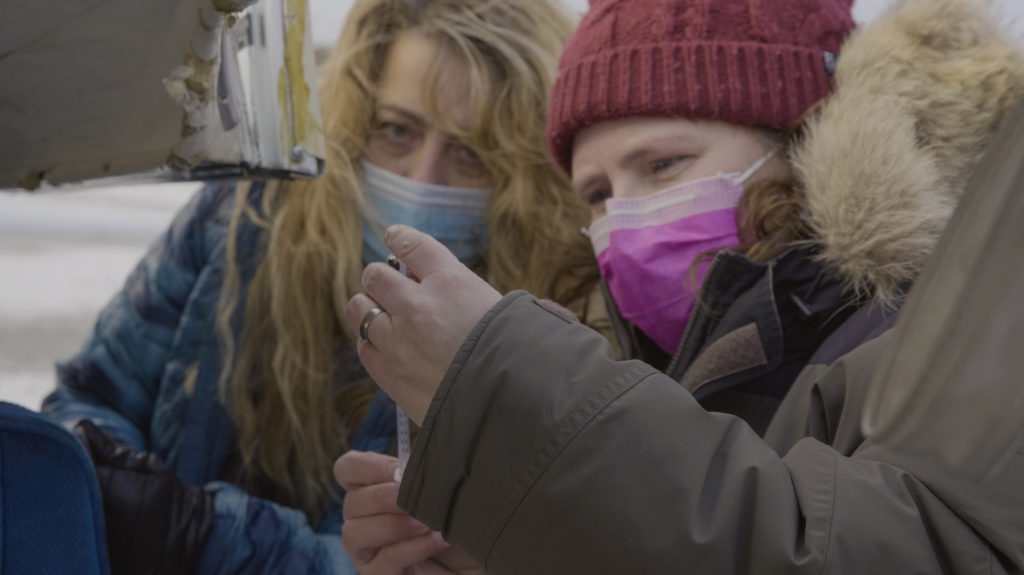 One of the biggest concerns for the Tribal health care system and local authorities throughout the pandemic has been the vulnerability of rural communities. A year ago, it seemed like COVID-19 was on a course to mimic past pandemics in its threat to Alaska Native people.
According to Centers for Disease Control and Prevention data, Alaska Native and American Indian people had the highest COVID mortality rate from March to December 2020. Once vaccines were available, Tribal health organizations worked together to get them distributed as efficiently as possible. Due in part to their efforts, Alaska became the first state in the union to make vaccines available to all people age 16 and up.
It was March 1, 2021, and Alaska health officials were still working overtime to vaccinate the highest-risk groups, with most adults not yet eligible to receive the shot. As Alaska's Tribal health care system opened its doors to members of the general public, some Alaskans were left wondering: Why? The announcement took many Alaskans by surprise: Southcentral Foundation, the Anchorage-area Tribal health care provider, would begin offering the COVID-19 vaccine to all Alaskans age 40 and older — Alaska Native or not. Smallpox, measles and polio were all devastating to Alaska Native communities, and the Indian Health Service built the original Alaska Native Service hospital in downtown Anchorage in response to an epidemic of tuberculosis.
Still, the disease that looms largest among older generations is the influenza pandemic that began in 1918. As vaccines have become widely available, many Alaskans have begun to relax. But the virus is still very much a part of daily life for health care providers and hospital staff even before the arrival of the highly contagious variants, from which Anchorage hospitals are continuing to work through.
This story is excerpted from news stories written in partnership with the Anchorage Daily News, read the full stories here:
For Alaska Native people, COVID-19 arrived with shadows of the past.
Self-governance and sense of community drive Tribal COVID response.
---
Quit Tobacco Use – ANTHC can help!
With 2022 upon us and the COVID-19 pandemic entering its third year, now is the best time to consider quitting tobacco. Smokers and people using vape pens or e-cigarettes may have less efficient lungs and may be hit harder by breathing issues resulting from the virus.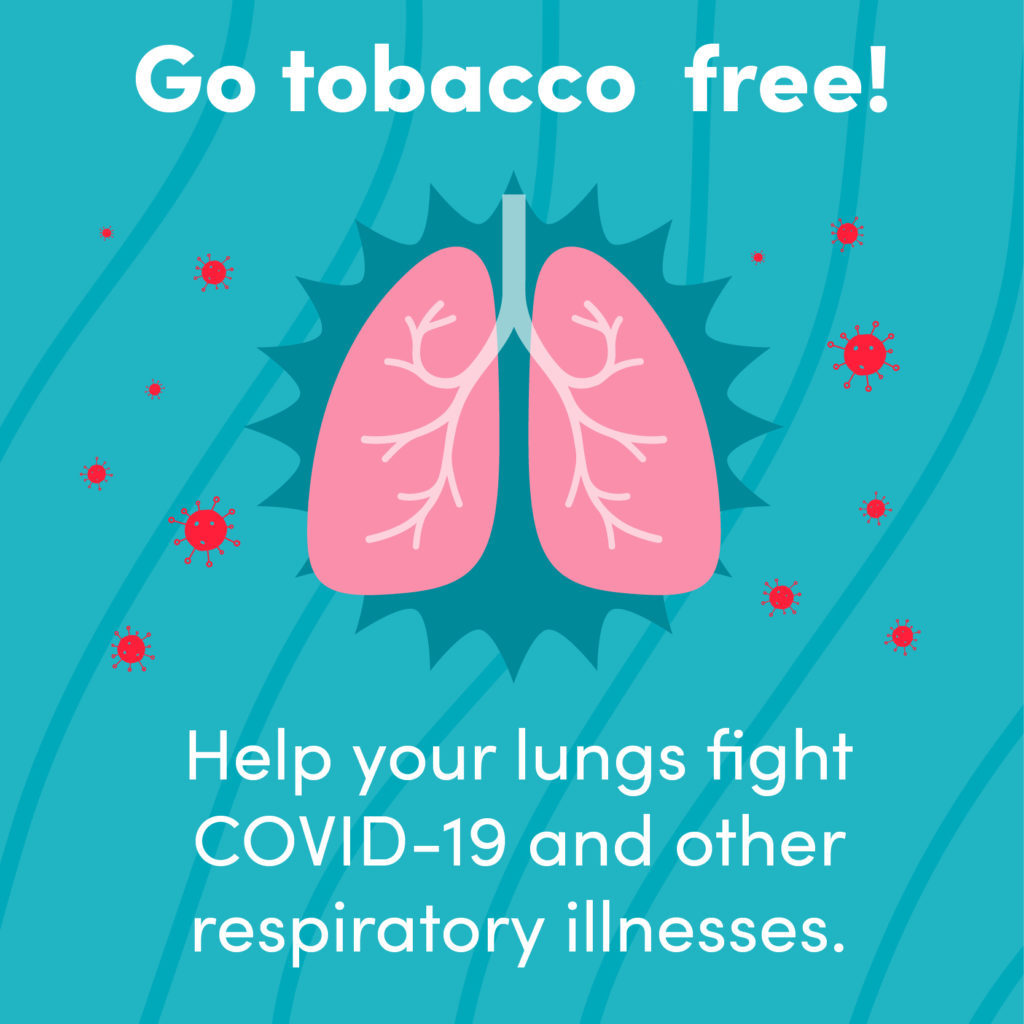 Quitting tobacco can be one of the hardest things to do, but ANTHC's Tobacco Prevention program can help. The Tobacco Prevention program offers free tobacco cessation services to ANTHC employees and patients of the Alaska Native Medical Center.
Participants can receive over the phone counseling from a certified Tobacco Treatment Specialist and information on nicotine replacement therapy (NRT) options available such as nicotine patches, gum and lozenges, or prescription medication used to assist in quitting tobacco. Counseling, NRT and medication refills are provided for up to one year and there is no limit to how many times you may access services. To enroll in the program, call (907) 729-4343, or visit https://www.anthc.org/what-we-do/wellness/tobacco/.
For those outside of the Alaska Native Health System, the Alaska Tobacco Quit Line offers tobacco cessation services including one-on-one coaching and nicotine replacement therapy. The Quit Line is a free service for all Alaskans and is available by calling 1-800-QUIT-NOW (1-800-784- 8669), seven days a week, from 4 a.m. to 11 p.m. Alaska's Tobacco Quit Line services include a series of phone counseling sessions and up to eight weeks of free NRT.
For more resources, please visit:
The State of Alaska, Tobacco Prevention and Control Program
---
Save the Date: Raven's Ball 2022!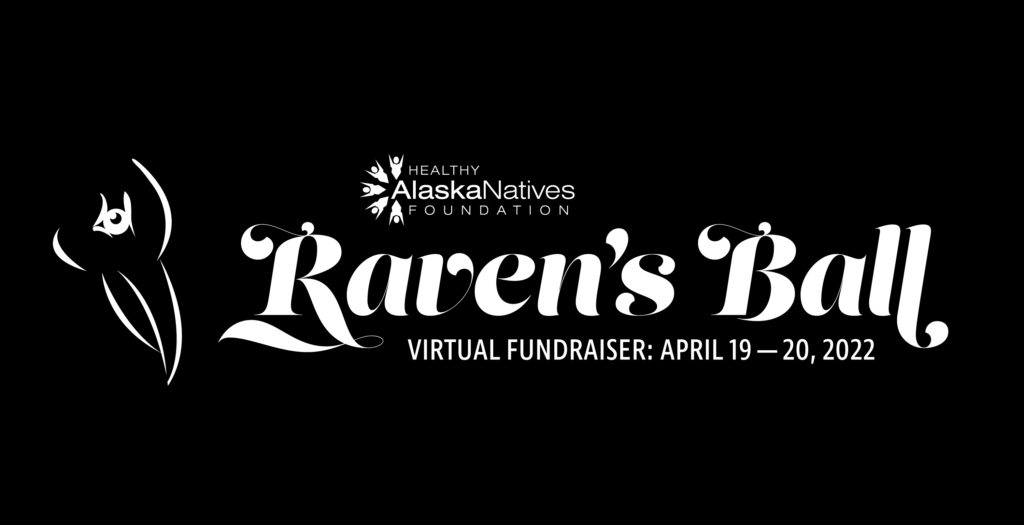 The annual Raven's Ball, hosted by the Healthy Alaska Natives Foundation (HANF), has been a celebratory event raising funds for the Alaska Tribal Health System for the past 14 years.
For the third year, due to the ongoing pandemic and for the safety of our partners, we have transformed our 15th annual spring Raven's Ball into a virtual fundraiser that will take place on April 19 and 20, 2022.
For more information visit https://healthyalaskanatives.org/2022-ravens-ball/
---
ANMC partners with CommonWell
The Alaska Native Medical Center is pleased to provide our patients the opportunity to participate in the CommonWell network, allowing participating health care practitioners access to health information nationwide, regardless of where care occurs.
Imagine you or a loved one are in an accident and suddenly in an emergency room, unable to speak. Emergency providers who have never seen you are about to administer care. They quickly log on to a computer and instantly have access to your health care history – what you are allergic to, what medications you are taking, any recent health complications or provider encounters, and more. For a patient, this could be the difference between life and death.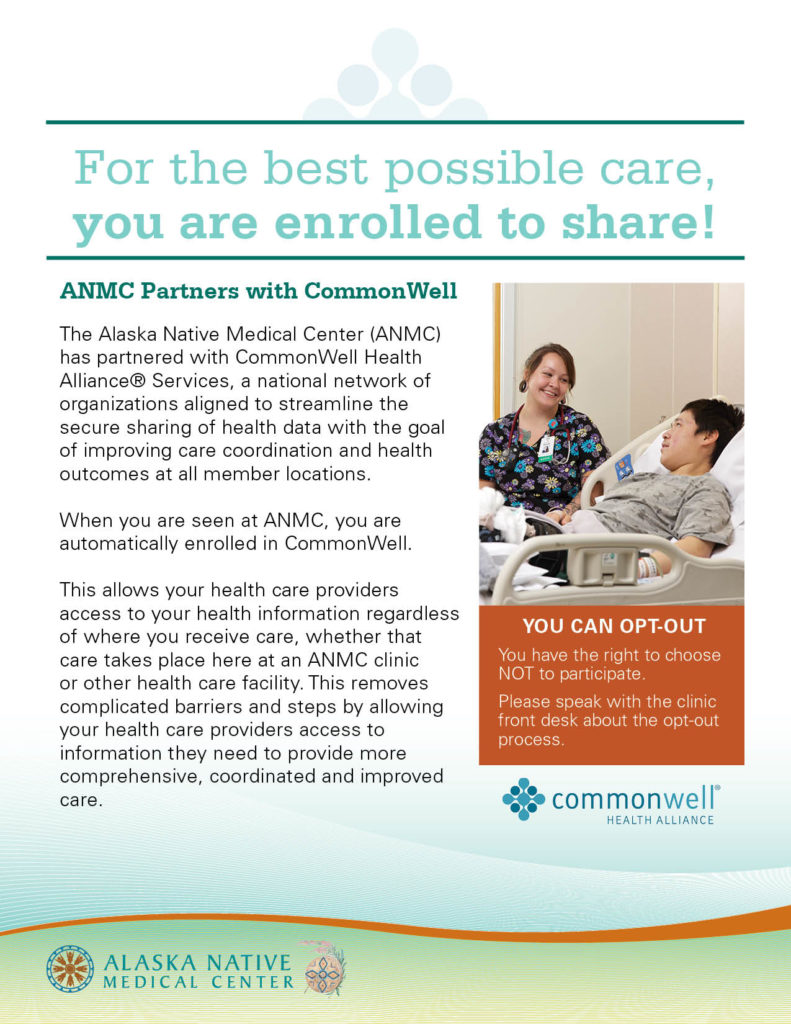 For more information on CommonWell at ANMC visit https://anmc.org/patients-visitors/hie/.
---
Recipe: Zuppa Toscana with ground moose meat
Healthy eating and food security are important building blocks of health. The Consortium helps promote the knowledge and use of traditional food and traditional ways that support Alaska Native health.
---