2022 Summer Interns Gain Experience at DEHE
October 11, 2022
Categories:
Summer brings internship opportunities to ANTHC's Division of Environmental and Health and Engineering (DEHE). The program offers undergraduate and graduate engineering and environmental health students a variety of experiences as they work with engineers and community health professionals on projects around the state.
This year, DEHE welcomed six interns who participated on projects, traveled to rural communities and found new inspiration and motivation for their chosen career paths.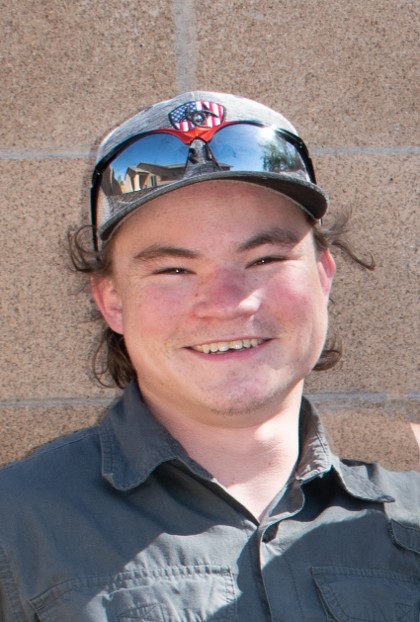 Jarvie Arnold is currently entering his senior year at South Dakota School of Mines and Technology. He will graduate with a Bachelor of Science in Chemical Engineering in May 2023. He's been working with staff in the Alaska Rural Utility Collaborative and has traveled to rural Alaska on various projects. Being in the villages and doing meaningful work for others has been one of the highlights for Arnold, who hopes to continue once he has graduated. 
Helping others is not new to Jarvie, who is a Tiospaye Scholar, which is similar to the Alaska Native Science and Engineering Program (ANSEP) at the University of Alaska Anchorage (UAA). He mentors younger students and helps them with classes while also representing his Native heritage and encouraging others to study subjects in science, technology, engineering and math fields. He enjoys the outdoors, hiking, biking, fishing, hunting, and four-wheeling. Alaska has been one of his dream places to live and is even more so after interning at ANTHC.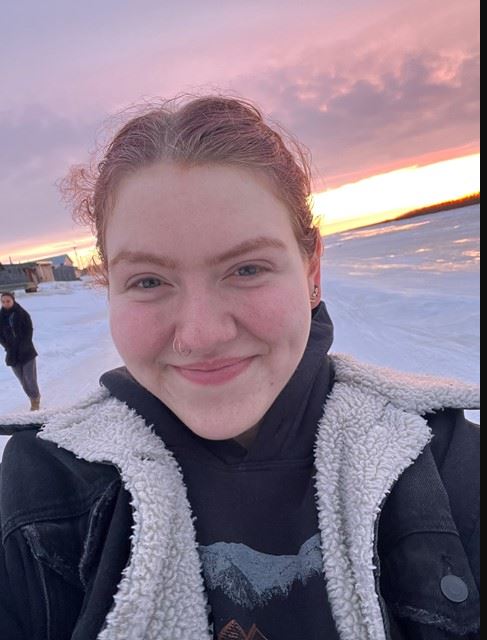 Elisa Burnett is from Amarillo, Texas. In her free time, she likes running and hiking with her dog Beau. She also enjoys painting and singing. She decided to pursue a career in environmental public health after doing some overseas volunteering in high school and is currently attending Alaska Pacific University pursuing a degree in environmental public health. She hopes to pursue a career in improving water and sanitation conditions in rural Alaska villages. 
Burnett interned with DEHE's Community Environmental Health and assisted with an EPA grant project focused on reducing lead in drinking water in childcare facilities. Her focus was to help develop community outreach for the lead monitoring ANTHC is doing with RurALCAP Headstart.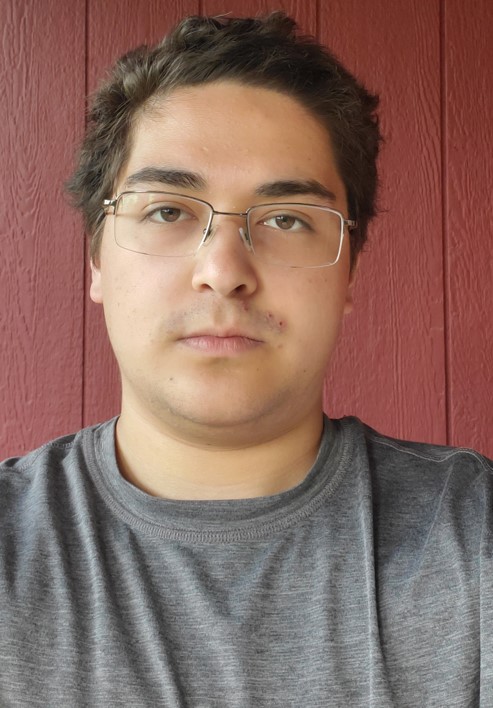 Noah Faso-Formoso is an electrical engineering student at UAA and an ANSEP University Success student. During his free time, he enjoys playing word games like Scrabble, or competing in word game speed runs.
Faso-Formoso is an intern with the Rural Energy Program and helped interpret remote monitoring data, specifically looking for possible energy savings for rural communities. He also worked with the Homer Microgrid Software for optimizing costs for solar and wind systems. He traveled to Koyukuk and worked on the community's biomass system, as well as their water treatment plant. He also helped with the metering for a streetlight upgrade.
"I really enjoyed the internship and got a lot out of it," Faso-Formoso said. "I would recommend it to anyone."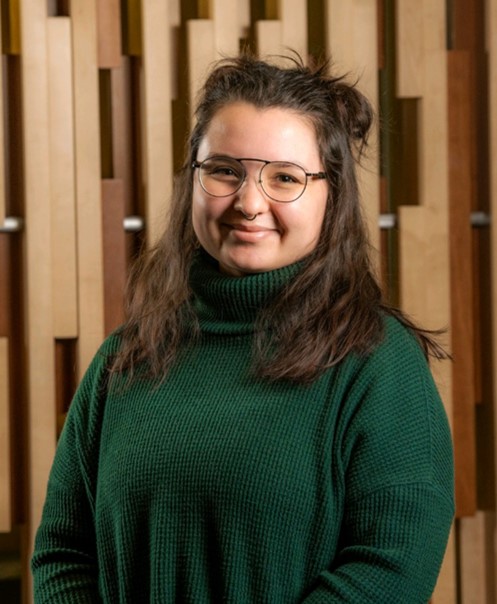 Maicel Fuhriman was born and raised in Idaho. She is a graduate student in project management at UAA and holds a Bachelor of Science in Mechanical Engineering from New York Institute of Technology. She has been working with DEHE's Regional Project Management Services and has loved every minute of it. 
"The internship has given me a lot of direction," Fuhriman said. Before the internship, her goals were vague. But she has found that the work ANTHC does with rural communities has helped define her future. "Helping a community with basic human needs has been a really big draw."
She has been assisting in research for various ways to use 3D modeling as a training and exploratory tool. Alongside her DEHE mentor, Cy Two Elk, she has met with vendors, ANSEP, and the Alaska Native Heritage Center in Anchorage to bring a more expansive knowledge of 3D modeling tools to ANSEP students and help create a culturally immersive reality for the heritage center.
Fuhriman has traveled with DEHE to Bristol Bay and says talking with the locals about their trades, hearing their stories and finding out what they do is one of the most memorable things about her summer.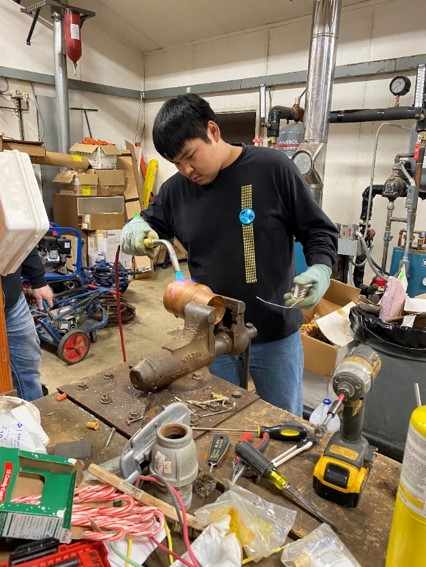 Andrew Nicolai graduated December 2021 with a Bachelor of Science in Mechanical Engineering from University of Alaska Fairbanks. This is his second internship with ANTHC, having previously interned through the First Alaskans Institute. This summer, he interned with Tribal Utility Support putting together operation and maintenance manuals, and designing and building a watering point demo. He traveled to Kwethluk, where he gained hands-on experience with remote monitoring systems for the clinic and school. 
"It was a great internship," he said. "I wouldn't change it."
Nicolai was recently hired to work in DEHE's Scattered Sites program. Congratulations, Andrew, and welcome!
Mason Shelden born and raised in Palmer and is studying environmental engineering at the Colorado School of Mines, as well as earning a minor in public affairs through the McBride Honors Program at the college. She'll graduate May 2023 with a bachelor's degree and plans to earn her master's degree. 
Shelden interned with DEHE's Regional Project Management Services on a diverse list of projects, including home site visits, sanitation reports, Scattered Sites applications, community lagoon and landfill examinations, and the water treatment plant in Chignik Lagoon. She also traveled to Ugashik, Pedro Bay, Dillingham, and Aleknagik.
"It wasn't always glamorous, and sometimes I felt wildly unprepared, but it sure taught me a great deal about engineering field work and problem solving," Shelden said of her time in the field. "As my supervisor Victoria Jelderks would put it, everything is a puzzle in need of a solution."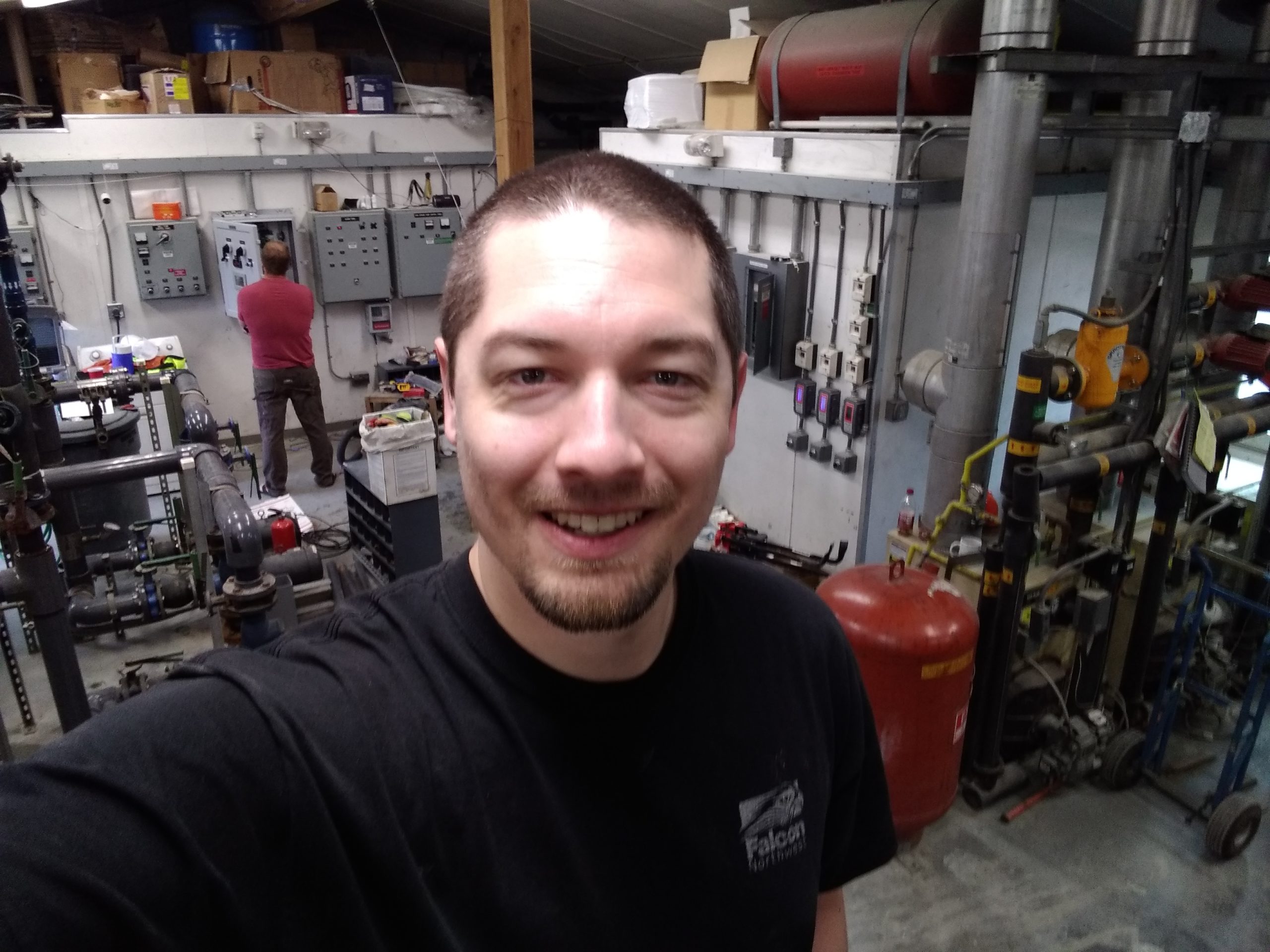 Christopher Steere was born in Fairbanks, and was raised mainly in Anchorage. His mother is Inupiaq from Unalakleet. He was an active duty electronics technician for the U.S. Navy, and is currently an F-22 crew chief in the Air Force Reserve. He's pursuing an electrical engineering degree at UAA. 
Steere interned with the Engineering Services group this summer. Visiting rural communities and participating in projects gave him a much better idea of what he'll be doing as an engineer. The internship has provided a lot of practical experience, such as building control panels and learning to use AUTOCAD.
"Getting to meet the engineers, both in the field and at the office, and share in their vision and mission for a healthier Alaska was great and provides me some needed motivation for my often difficult and abstract coursework," Steere said.
He's looking forward to coming back to DEHE as an intern next summer.
Cy Two Elk, project manager with DEHE, said that the value that interns bring to the organization is often more than just a summer's worth of help.
"I would recommend anyone in a position to take on an intern, to do so," Two Elk said. "It not only helps the organization in the short-term, it helps prepare us for the future. Some interns will join DEHE in a permanent role and be prepared to hit the ground running. Other interns may join outside firms and have a better sense of our role in tribal health, becoming great partners to ANTHC in pursuit of our mission."
Shelden summed up her summer: "I feel pretty fortunate about having had this opportunity. I know that's a general intern protocol statement, but I mean it – I've gotten to travel, try new foods, meet new people, and hear their stories. I especially love that, hearing the stories. Sometimes, it's as brief as a sanitation deficiency at their home. Other times, I've sat down with people and heard whole life stories. Really, there's no point to being a by-the-book engineer if I don't get to connect with the people I'm serving."
---
Browse More Stories
---
Share This Story