ANMC celebrates its hardworking, talented nursing staff during National Nurses' Month
May 6, 2021
Being a nurse under normal circumstances is hard work. And during this last year, working as a nurse during the COVID-19 pandemic added multiple unique challenges.
Nurses at the Alaska Native Medical Center provide high-quality, patient-and-family-centered care. Our nurses display their commitment and excellence through professional development, evidence-based practice, and innovations in their professional nursing practice at ANMC. And in addition to their work and education, many of ANMC's nurses participate in shared governance which shapes the work they do at the bedside.
Historically, Nurses' Week was celebrated from May 6, National Nurses Day, through May 12, the birthday of Florence Nightingale, the founder of modern nursing. Last year, the American Nurses Association expanded the week of celebration and recognition for nurses to the entire month or May, and that new tradition continues in 2021.
The COVID-19 pandemic hit the health care industry especially hard. There was a worldwide shortage of personal protective equipment. Policies and procedures changed rapidly and continuously. Many nurses had to quickly adapt their practices and work in areas they typically did not. Many of ANMC's Specialty Clinic services were put on hold when the pandemic was at its worst. Non-essential procedures and surgeries were postponed. Some clinics temporarily closed and drastically reduced staffing. ANTHC quickly stood up COVID-19 testing sites and nurses pivoted to immediately train for new job duties supporting the testing sites.
"ANMC's nurses regularly go above and beyond in the work they do," said Dr. Renee Steffen, ANMC Chief Nurse Executive. "This past year brought a whole new meaning to the term 'above and beyond.' Our nurses picked up extra shifts, cross-trained in areas they do not normally work in and continued to provide excellent patient care, all during a worldwide pandemic."
More than 765 nurses work in the ANMC hospital and across the Consortium, making up about a quarter of our workforce.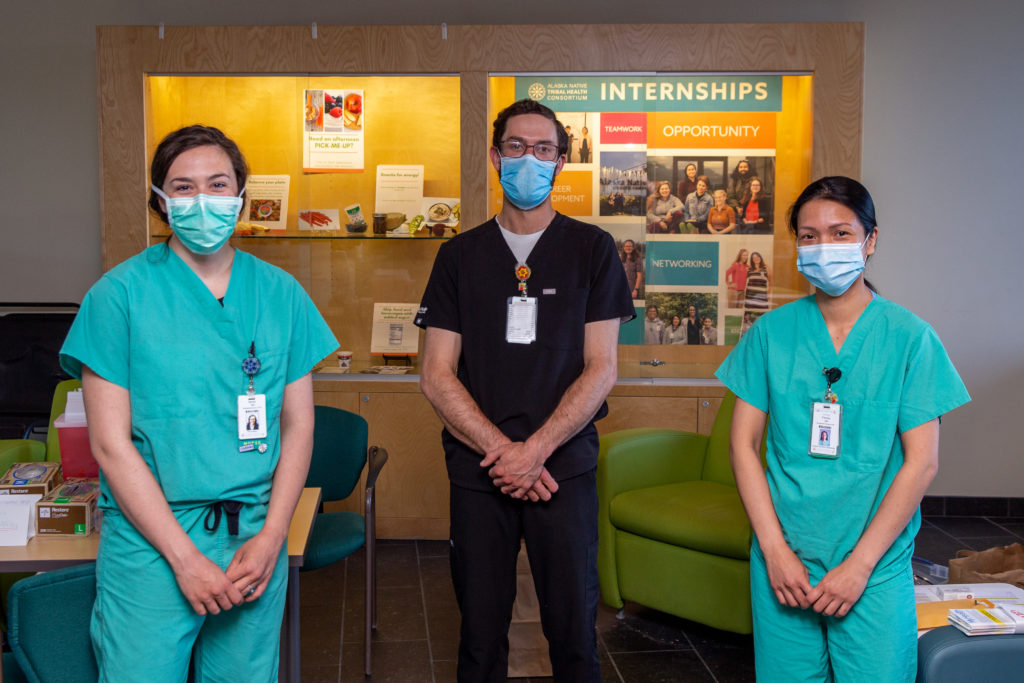 Our nurses are viewed as respected partners, collaborators and leaders. They are constantly seeking ways to improve the services and care we provide, from processes and initiatives to technology and equipment. Many of our nurses continually strive to strengthen and expand their own skills, as well. More than 290 ANMC nurses have national specialty certifications, with many nurses holding multiple certifications.
"This past year has been really tough and we are looking forward to celebrating our amazing nurses and the life-saving, compassionate care they provide to our people and their families every day. Thank you for all you do. Your sacrifices have not gone unnoticed," said Tracy Runyan-Traylor, ANMC Associate Nurse Executive.
In an effort to further recognize our nurses for their outstanding work, ANMC partnered with the DAISY Award, an international program that rewards and celebrates the extraordinary clinical skill and compassionate care given by nurses every day. ANMC presents the DAISY Award to RNs who regularly go above and beyond in the care they provide.
The DAISY Foundation was established in 1999 by the family of J. Patrick Barnes, who died of complications of the autoimmune disease Idiopathic Thrombocytopenia Purpura. DAISY is an acronym for Diseases Attacking the Immune SYstem.
If you would like to nominate a nurse for the DAISY Award, please visit https://anmc.org/the-daisy-award/nomination-form/.
---
Browse More Stories
---
Share This Story