Eek flushes the honey bucket with completion of water and sewer project
April 22, 2019
When Eek Elder, Elias Keyes, turned on his new faucet for the first time and watched the water flow down his sink, he saw his relative's prophetic words come to life.
"My grandfather used to say a time would come when we could push a button and everything would happen. Now, I see that it is," Keyes said. "When I'm gone, I won't have to worry about my grandchildren having safe water."
In March, workers on the project to bring first-time running water and sewer services to the entire community of Eek tightened the final fixture and turned on the faucet in the last home. The construction effort took five years to complete, but was worth the wait for residents like Keyes, who hauled water and disposed of waste in honey buckets their entire lives. In total, 100 homes and six other buildings were outfitted with water and sewer services.
The close-knit community of some 250 residents, located 51 miles southeast of Bethel, understands the positive impact running water and sewer will have on health outcomes. Many talked about refreshing feeling of a warm shower without the effort of hauling and heating up water, something people in urban areas of Alaska can take for granted. The community believes that illnesses have not spread as widely since homes have been hooked up to water and sewer.
"A flu goes around, it doesn't last as long because you can flush it away and wash your hands and disinfect your home," Eek resident Minnie Brown said. "There used to be accidental spills along the roads when people were hauling their waste to the honey bucket lagoon… our children play in those streets. Now, we won't have to worry about that anymore."
"Our community will be so much healthier now."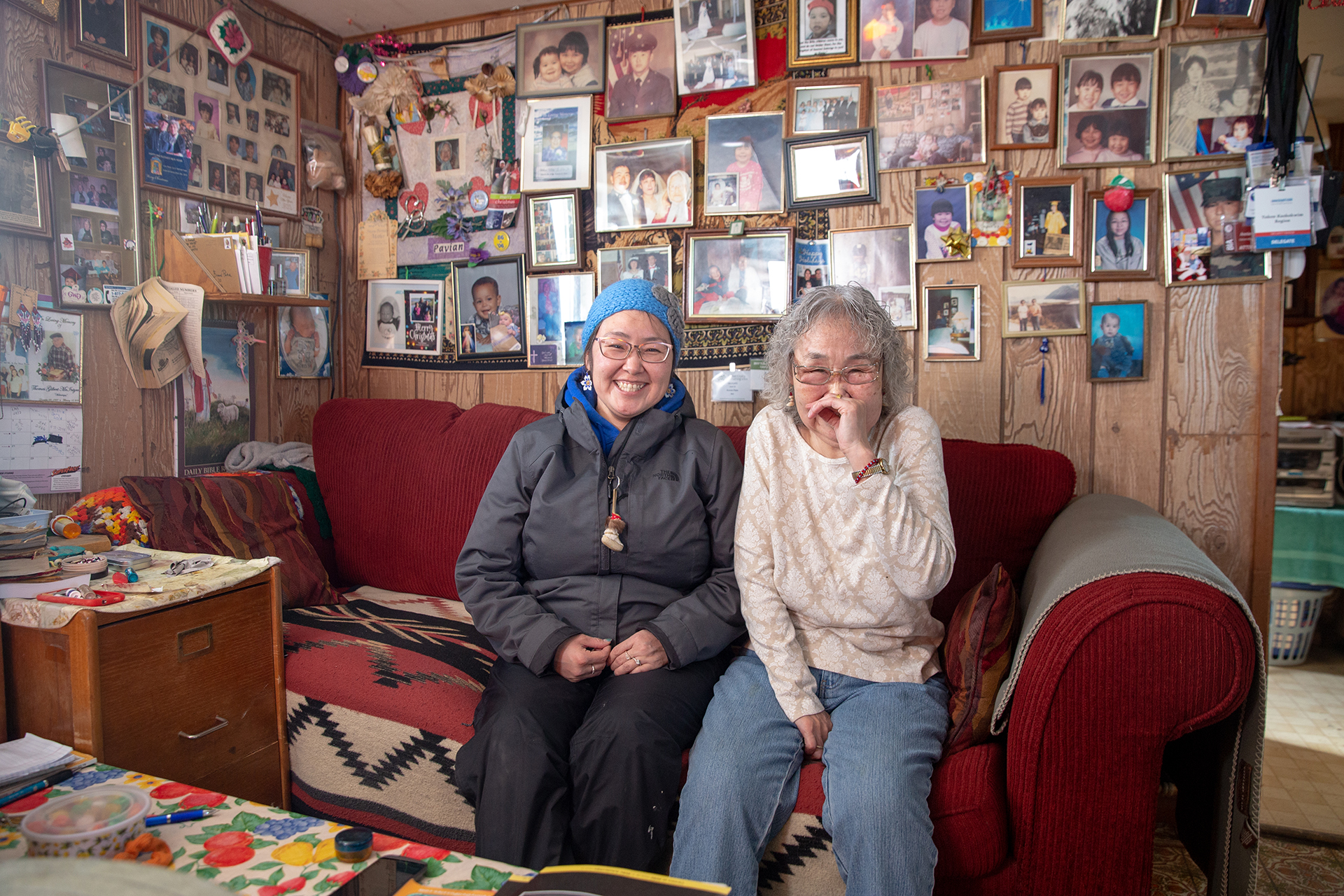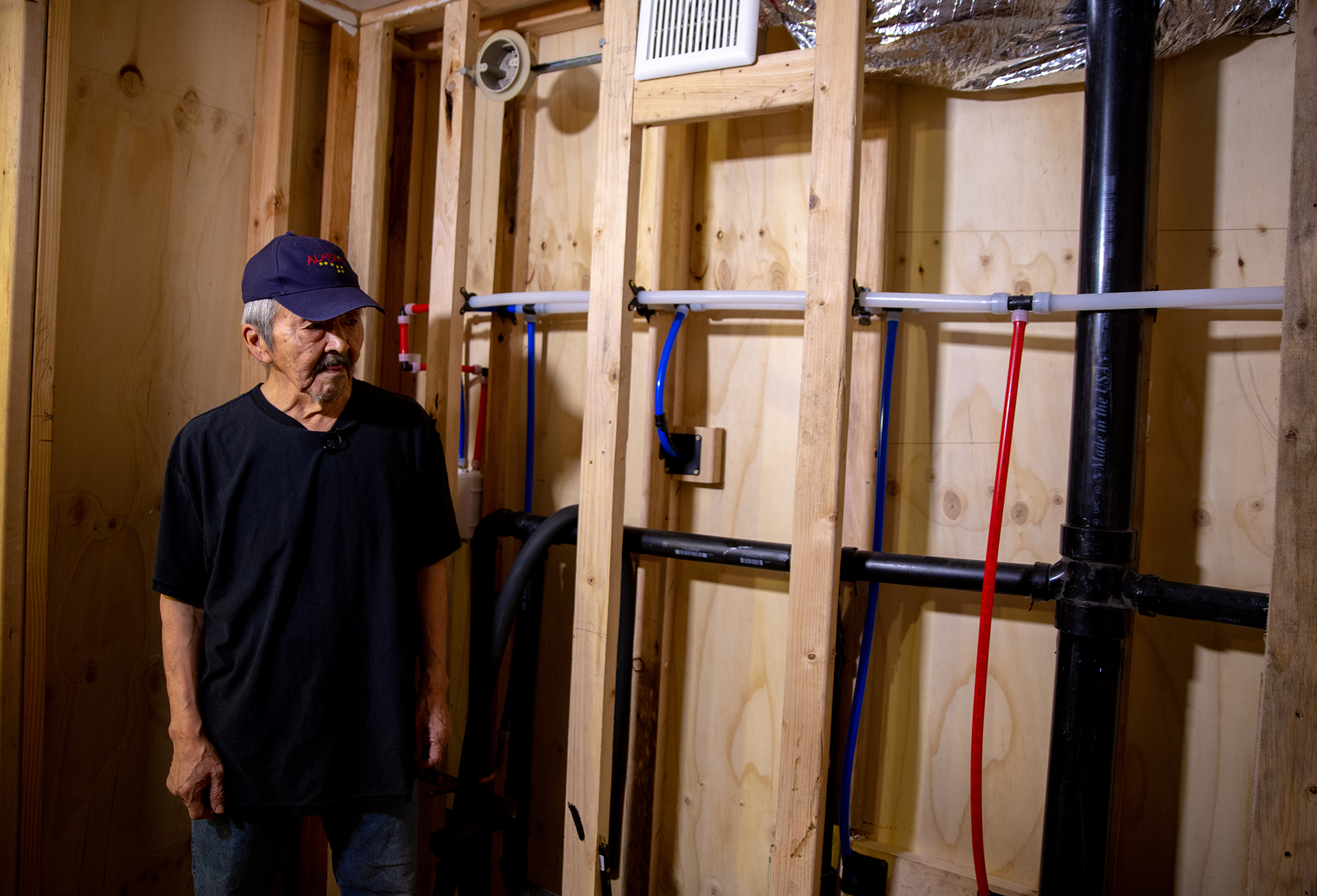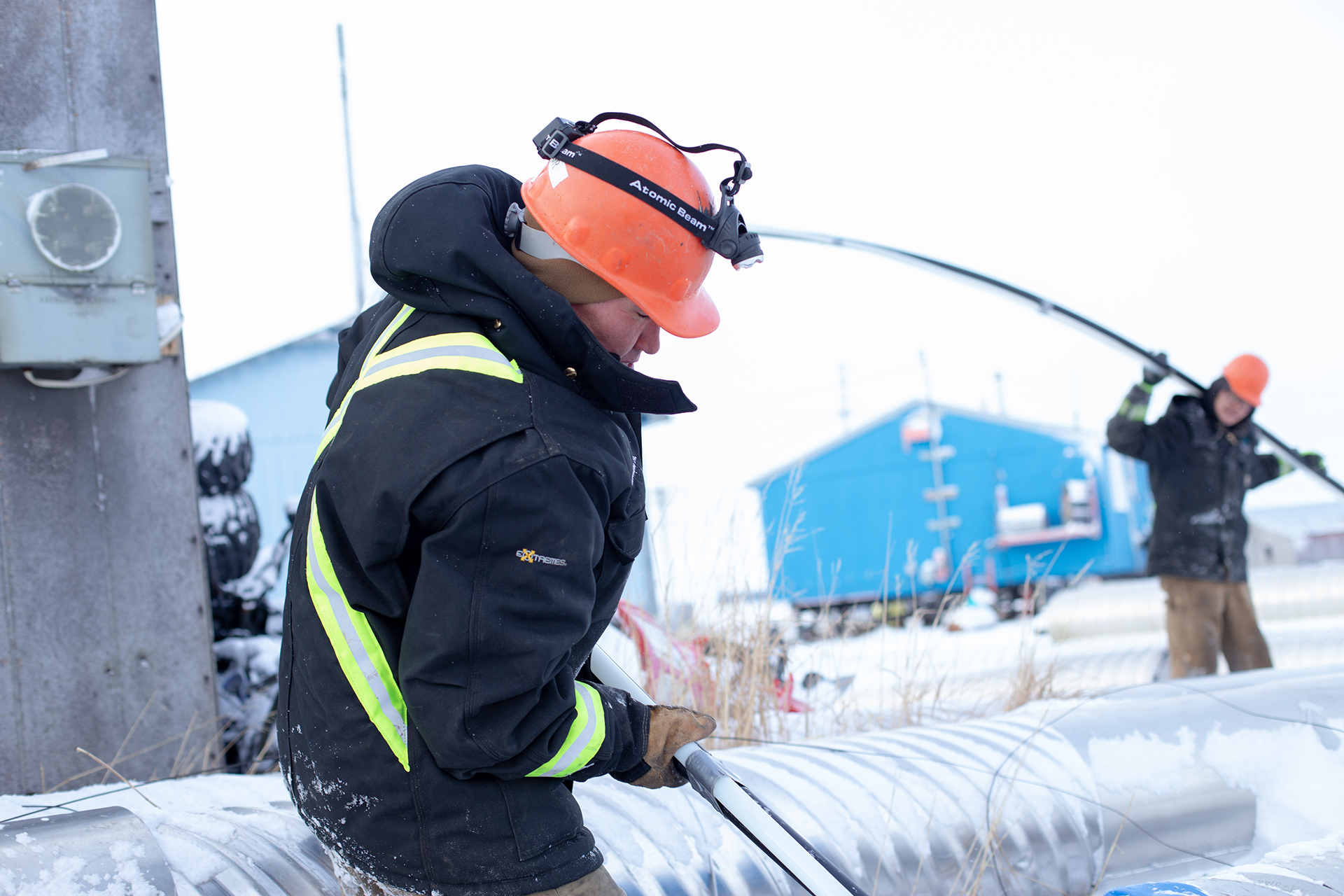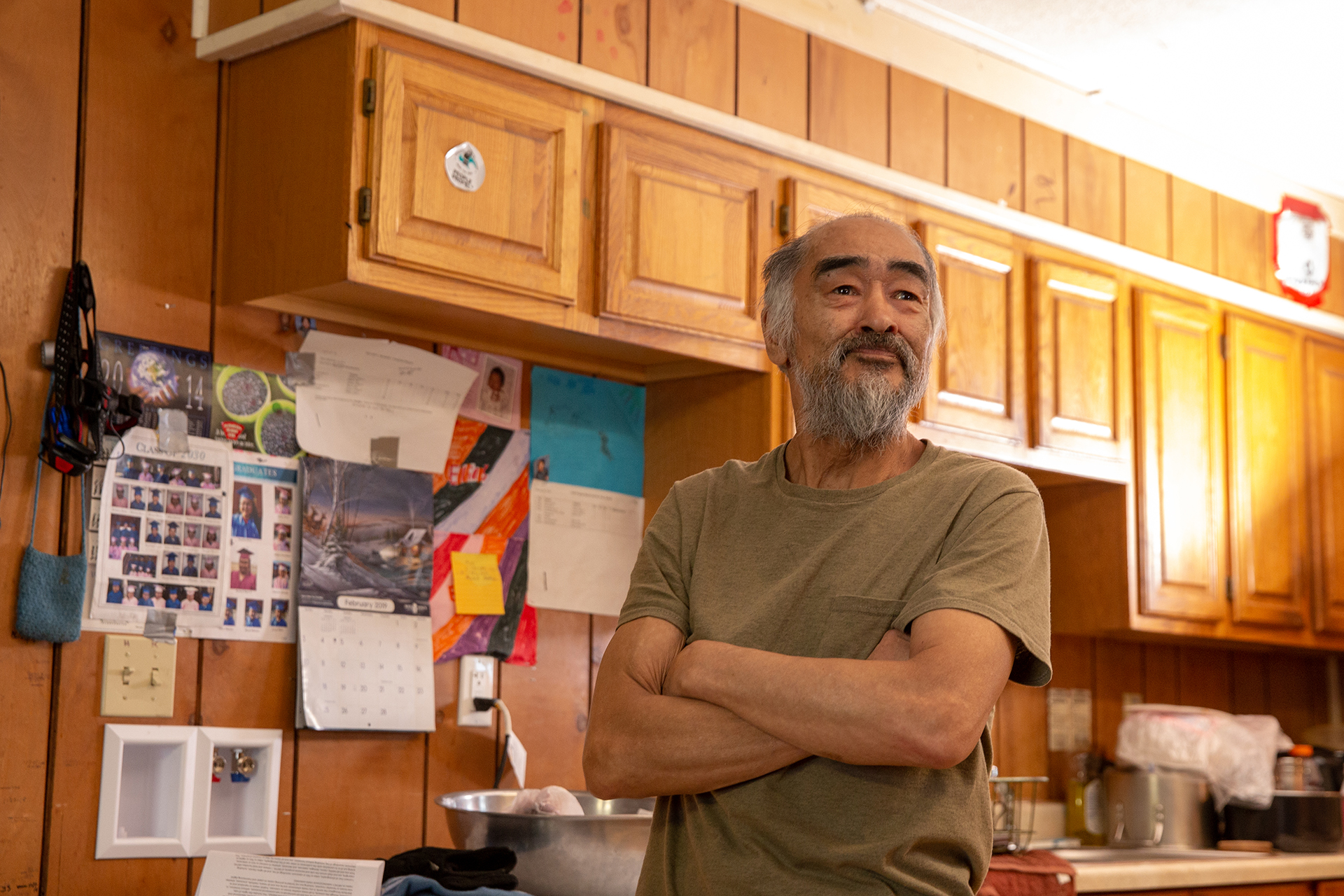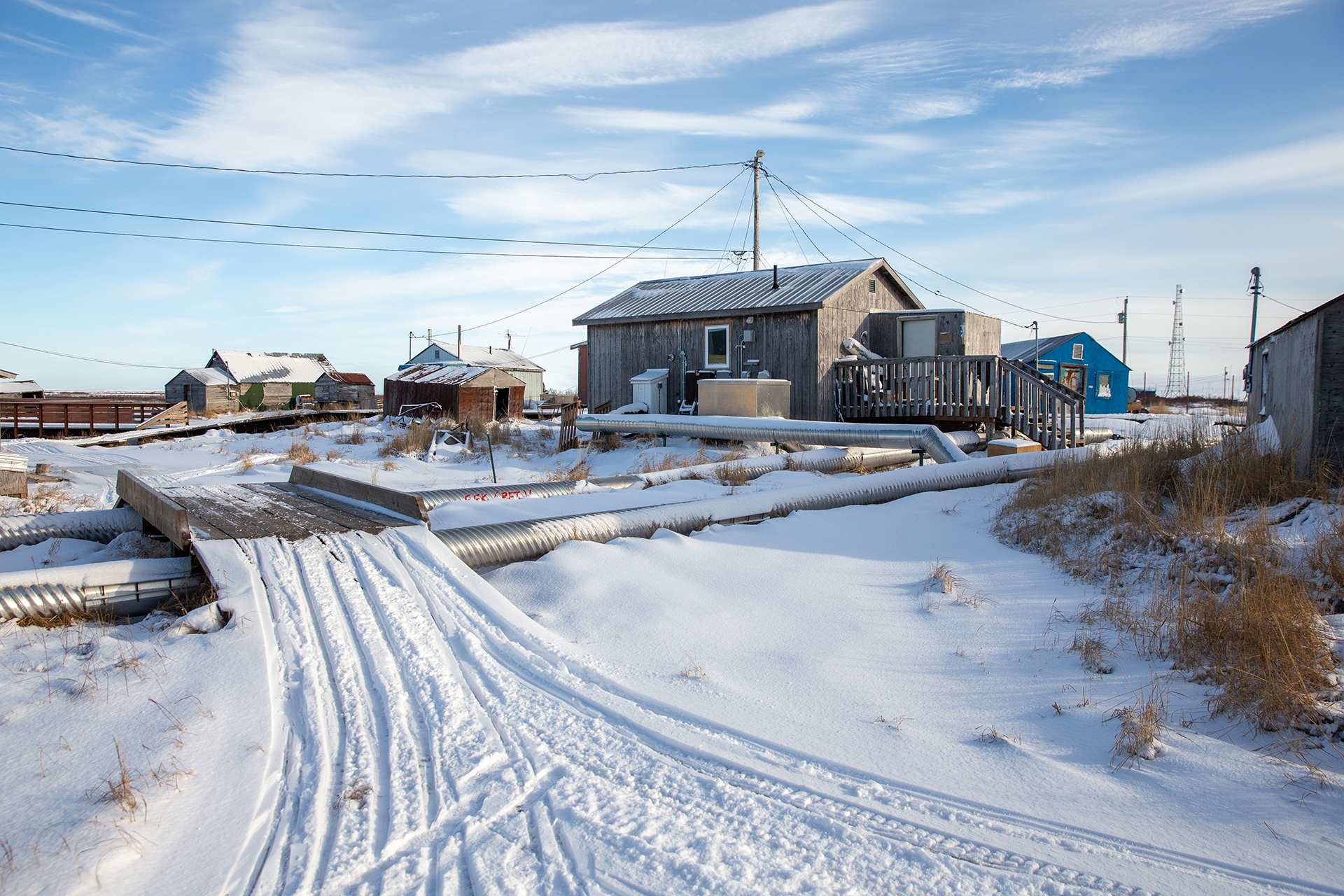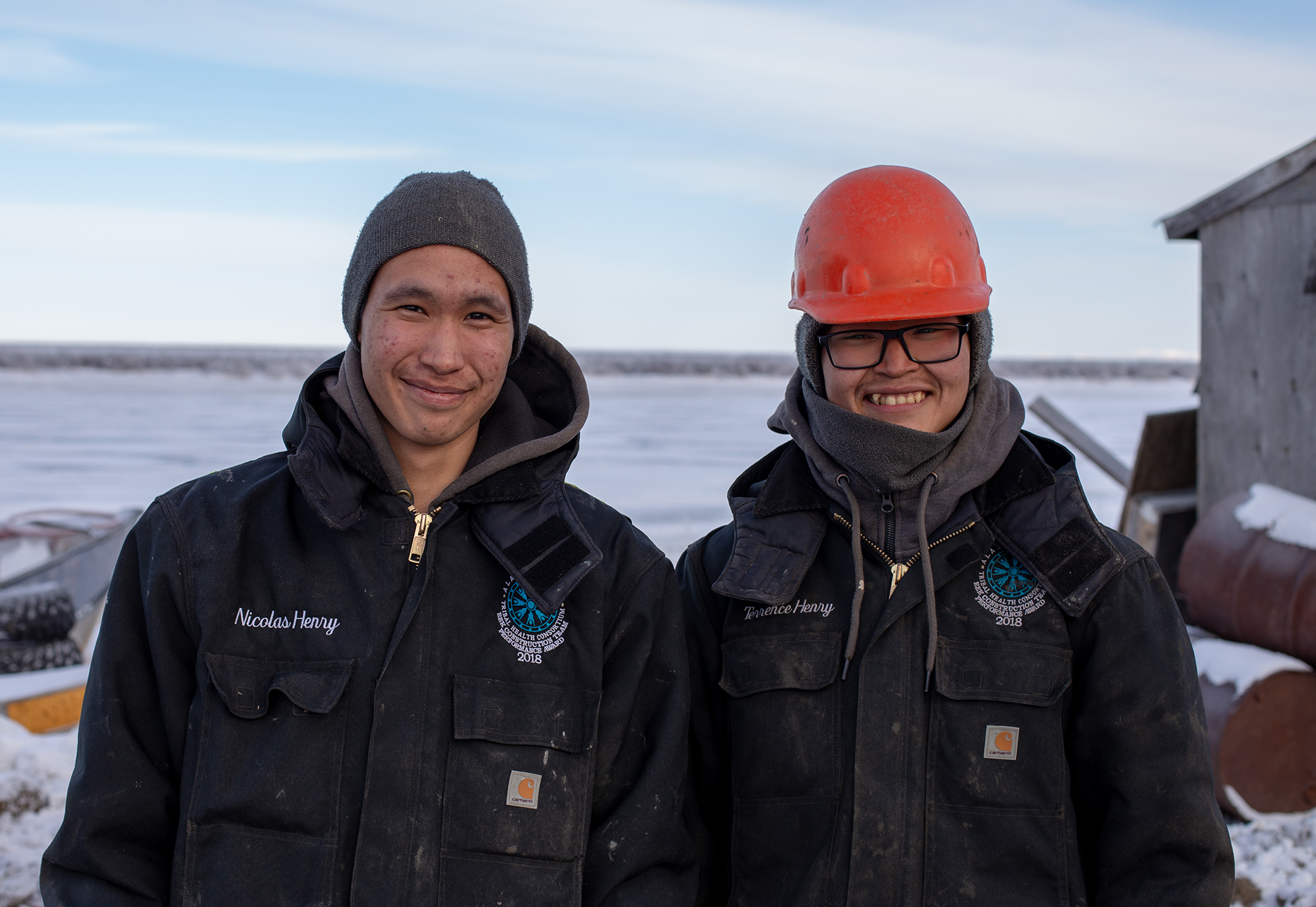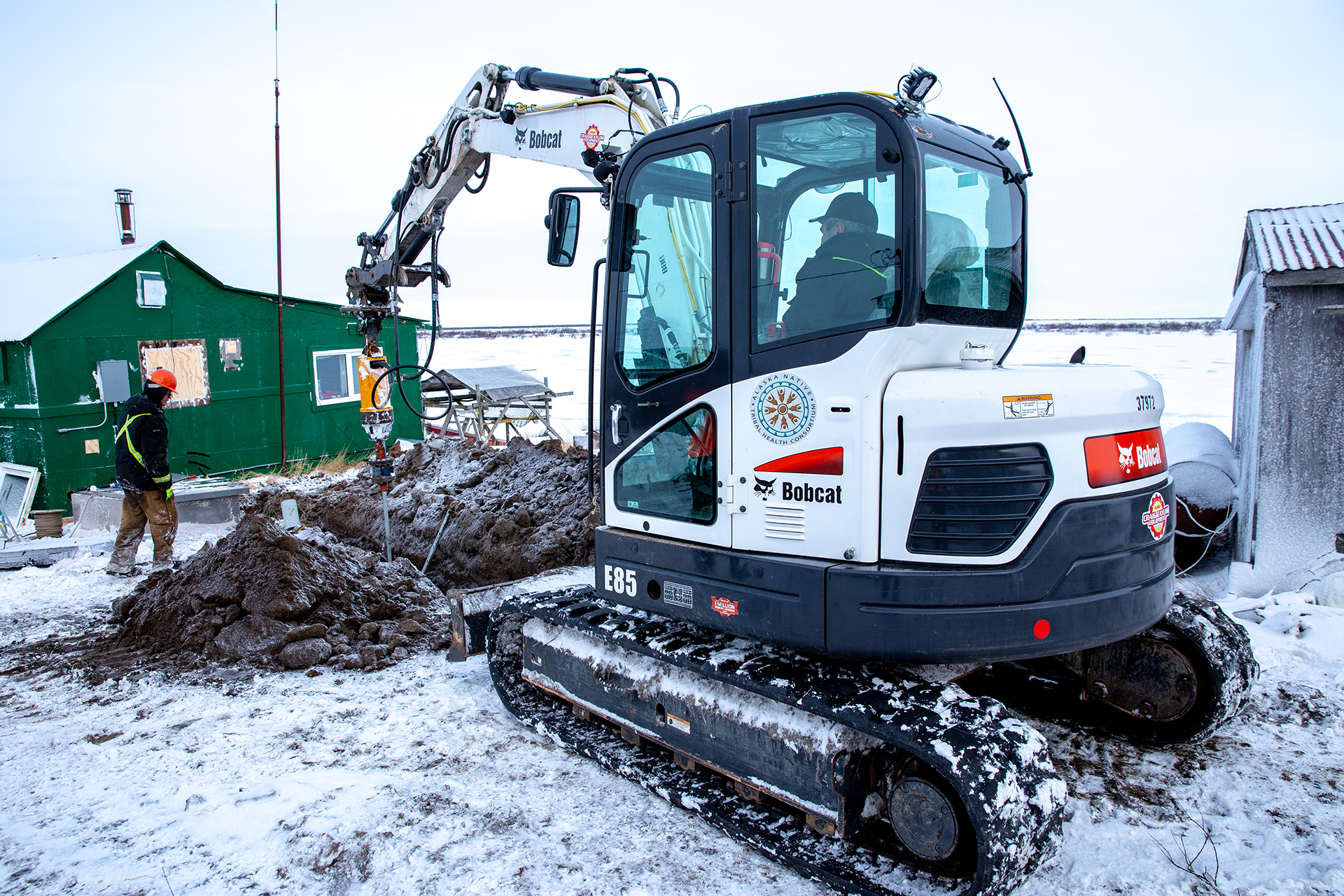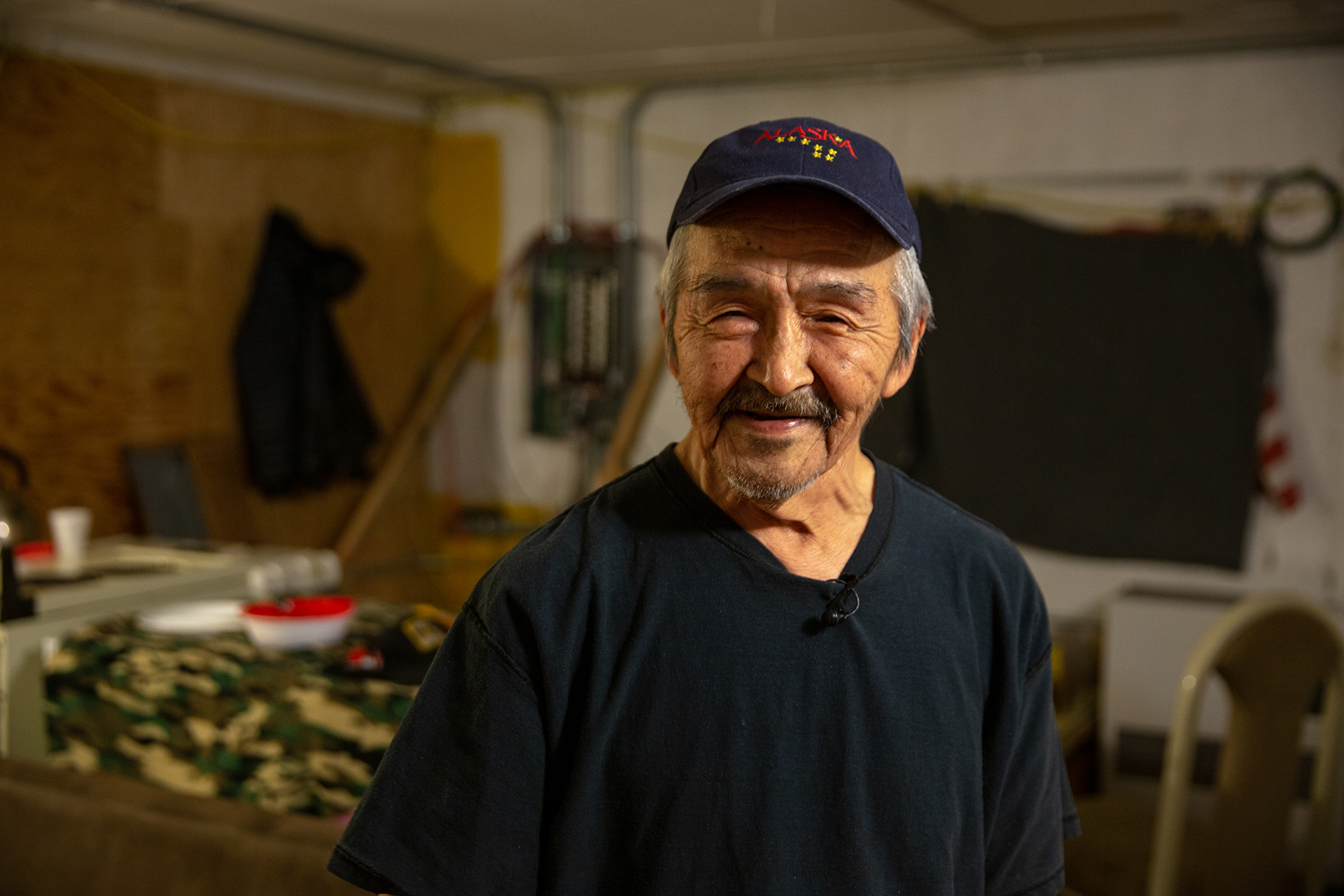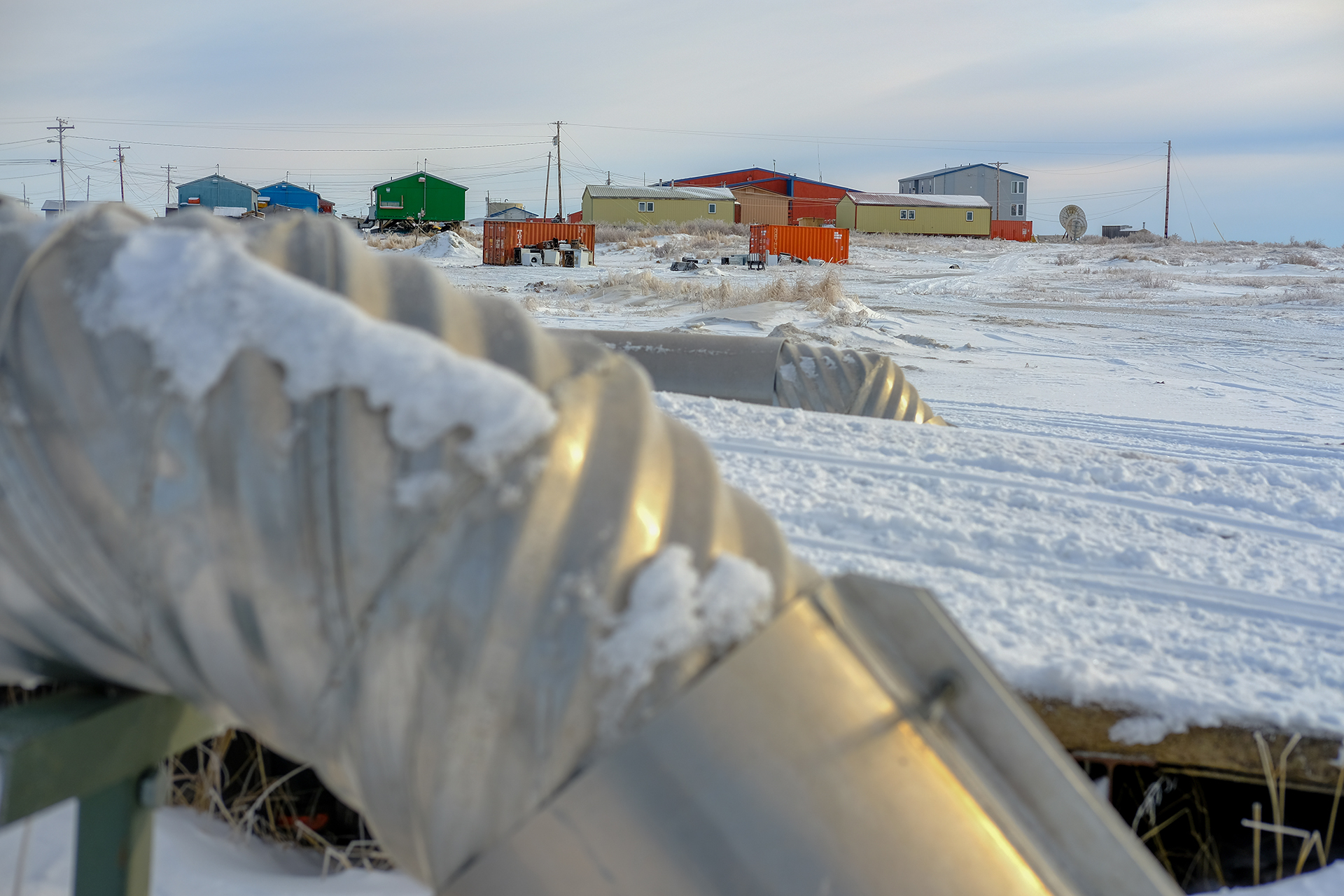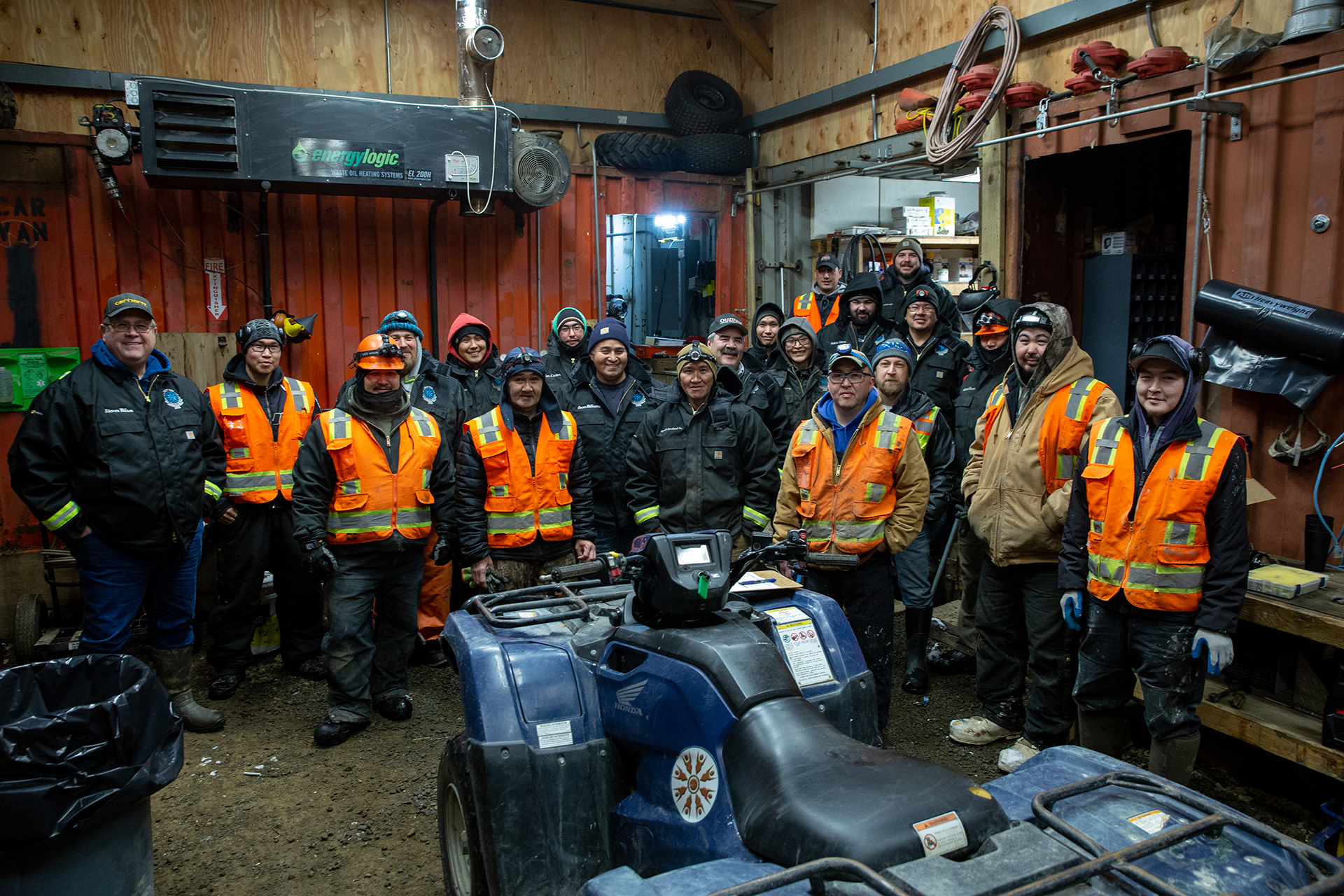 201902-AnniePete-Eek-WaterinHome-0856_web1
201902-AndrewBrown-Eek-WaterinHome-0238_web
201902-Eek-Construction-0677_web
201902-EliasKeyesandEmmaCarter-Eek-WaterinHome-0436_web
201902-Scenery-Eek-0908_web
201902-Eek-Construction-1401_web1
201902-Eek-Construction-0527_web
201902-AndrewBrown-Eek-WaterinHome-0283_web
201902-Scenery-Eek-9179_web
201902-Eek-Construction-0158_web
"Our community will be so much healthier now."

Minnie Brown, Eek resident
Engineering and construction efforts for the health of the community
The project to bring water to Eek homes began in 2014 with the construction of the sewage lagoon. The crew began laying pipe in 2015 and in 2017 started bringing water and sewer services inside the homes.
The first to receive services were newer HUD homes, which required few upgrades to the interior and plumbing systems. Homes in the older part of town, many built in the late 60s and early 70s, required extensive retrofitting. Some homes needed to be raised and leveled, while others began as a single room and needed rooms built to serve as new bathrooms. Interior walls were added in order to accommodate the new plumbing installations.
The community project also installed a new point for raw water intake, added water and sewer main lines, and built a water circulation building. Ready for construction, ANTHC engineers have designed upgrades to the boiler room in the water treatment plant and are designing a sewer maintenance shop. Once installed by ANTHC and local community hires, the boiler upgrades will maximize efficiency in the water treatment plant. A system to use waste heat from the Alaska Village Electric Company (AVEC) power plant will be installed to help prevent freezing in the circulating water distribution system. The final step is close the old honey bucket lagoon and forget about honey buckets altogether.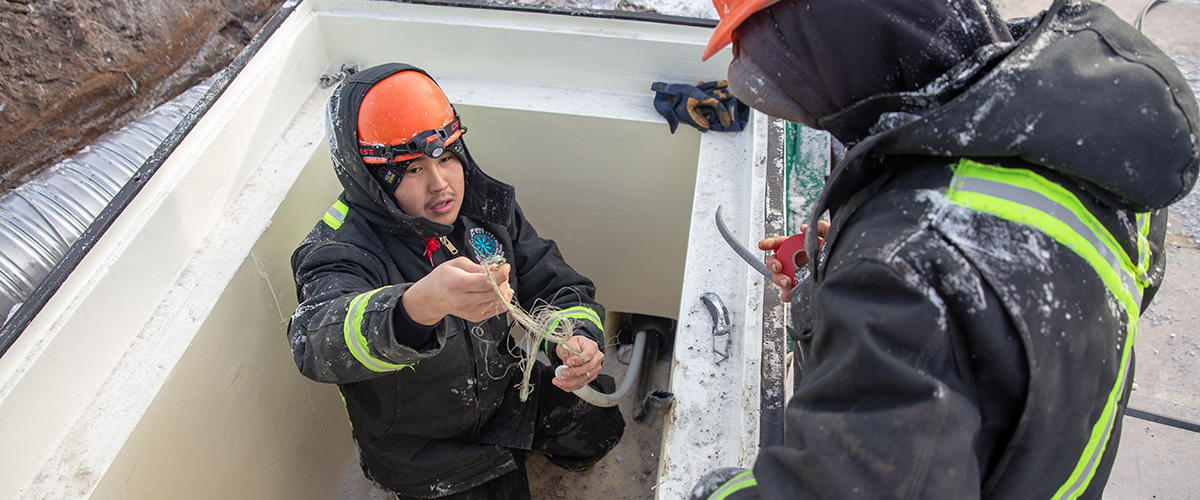 201902-Eek-Construction-0789_web
Local work inspires new career paths
Along with the improved health outcomes the community will see from the project, the construction brought jobs to many residents. The majority of the crew are local residents from Eek. These workers have attended trainings and gained certifications and job skills they can take with them after the project concludes.
"I want to continue working for ANTHC as an apprentice plumber so that I can travel around to different projects in the state and become a journeyman plumber," said Nicolas Henry, Eek construction crew member.
Nicolas and his brother, Terrence Henry, plan to continue building on the positive momentum they have started with additional training after the Eek project is finished. Terrance Henry graduated from high school when he was 16, anxious to get to work. Before starting work on the Eek project, he needed to meet 18-year-old minimum age requirement, so he worked at the store in Eek as a stocker while he began his college education as a mechanical engineering student.
"After the on the job training I've received, I plan to go back to college and complete my degree," said Nicolas Henry, who is thankful for the opportunity to learn so much through this experience. "Getting up early in the mornings, following instructions from the engineers very closely, and working with my hands are all things I've learned so far. The classes I took in college were really useful too. A few months ago, I saw an AutoCAD design. Since I had taken that class, I understood how to read the diagrams. Chemistry helped a lot too – putting all of the problem-solving skills into play. I also have learned to think way ahead – making sure I have all of the materials and that they are all prepped and ready for the day."
Because of the training they've received on the specific aspects of this system, at least four residents will be employed to maintain the community water and sewer systems.
"This crew is one of the finest I've ever had the privilege to work with, and certainly the strongest, most cohesive one I've had over the course of this project," said Steve Wilson, ANTHC Superintendent of the Eek project. "Without the local hires we've been able to bring on and their dedication to complete this project, we wouldn't be here today."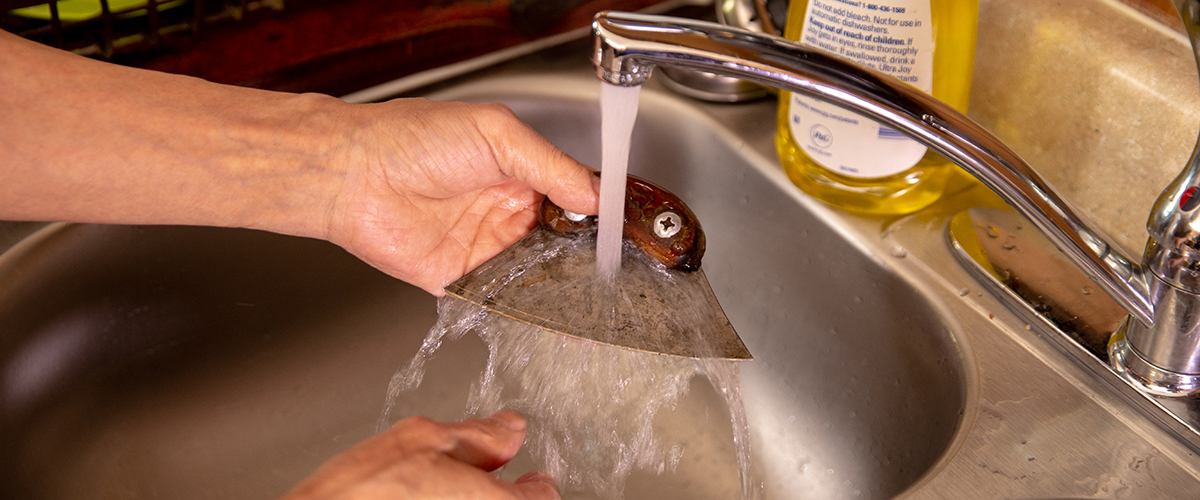 201902-EliasKeyesandEmmaCarter-Eek-WaterinHome-0474_web
State and federal funding agencies collaborate to support the project
The planning, design, and construction for the Eek water and sewer project was supported by a collaboration of state and federal funding agencies committed to working together with the community of Eek to provide the important sanitation services. Additional support was provided by the Yukon-Kuskokwim Health Corporation. Funding in support of the project came from the State of Alaska Village Safe Water Program, U.S. Department of Agriculture's Rural Development Rural Alaska Village Grant (RAVG) Program, U.S. Environmental Protection Agency Alaska Native Village Grant Program, U.S. Environmental Protection Agency Clean Water Act and Safe Drinking Water Act Tribal Set Aside Programs, and U.S. Department of Health and Human Services Indian Health Service Sanitation Facilities Construction Program.
---
Browse More Stories
---
Share This Story