Youth learn environmental stewardship with help from ANTHC
May 3, 2019
This story appeared in the April – June 2019 edition of the Mukluk Telegraph. Read more stories from the latest issue here.
This May, the 12th annual Youth Environmental Summit (YES) will convene in Kluti-Kaah, Alaska. YES is a day camp held in the Copper River region for youth in kindergarten to eighth grade, where participants learn about climate change, the environmental history of the area, and the importance of environmental stewardship.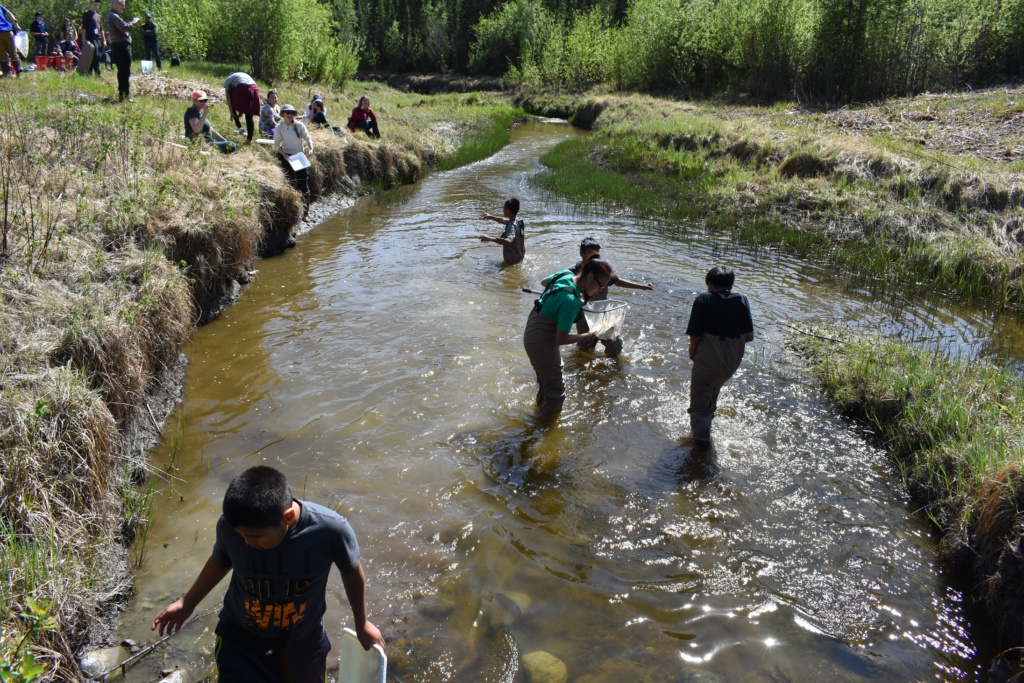 Gakona Village Council started the Summit in 2008 in an effort to educate youth through a three-day, hands-on camp based on the traditional stewardship practices of Elders.
"Our ultimate objective is to teach the youth to love the land and to embrace all it has to offer, and to capture that passion that makes them want to take ownership and fight for the future of that land," said Brandie Radigan, the Environmental Coordinator for Gakona Village, who coordinates the planning of YES.
In its 12 years, the camp has been so successful that annual attendance regularly numbers around 100 participants from communities all over the Copper River region, as well as Anchorage and Juneau. The camp's location changes each summer and activities vary to match each year's theme. In previous years, youth have participated in sessions that include learning how to trap and skin animals, harvesting edible plants and studying macroinvertebrates in streams.
The ANTHC Contamination Support Program facilitates an interactive activity every year, such as helping youth to build their own sandbox community out of edible materials and observing how a mock contaminant spill would affect the community and surrounding environment.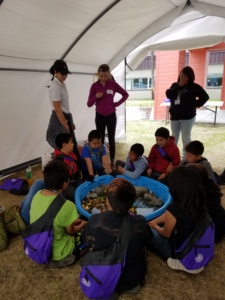 "Our YES program wouldn't be nearly as successful without our partners' tireless efforts, they come with positive attitudes and host sessions that grasp the children's attention," Radigan said. "Our partners all come from different perspectives and fields of environmental stewardship, and this helps the camp be as varied as the kids and their interests."
In addition to Native Village of Gakona and ANTHC, YES partners include Mt. Sanford Tribal Consortium, Cheesh-Na Tribal Council, Copper River Native Association, Native Village of Kluti-Kaah, Native Village of Tazlina, Bureau of Land Management, Copper River Basin Child Advocacy Center, Campbell Creek Science Center, Fish & Game, Wrangell Institute for Science and Environment, the Local Environmental Planning Committee, National Forest Service, and Wrangell Saint Elias National Park.
ANTHC has been a key YES partner since the camp's inception. In addition to leading camp sessions, the ANTHC Contamination Support Program assists with camp planning and coordinates donations of items from the organization that enhance the camp's theme. The Healthy Alaska Natives Foundation also contributes to YES. Last year, to supplement the "Survive and Thrive" camp theme, HANF funded the purchase of emergency kits for every participant.
During the camp, ANTHC also presents information from its partner Alaska Pacific University on degree offerings in environmental programs to emphasize educational and career opportunities in the environmental field.
"Without ANTHC, YES wouldn't be what it is. We love and appreciate ANTHC's support of our camp every year," Radigan says.
While YES activities and lessons are focused on the Copper River region, youth from all regions are welcome to attend the camp. Registration is free of charge, and breakfast and lunch are provided.
Contact the ANTHC Contamination Support Program at contaminationsupport@anthc.org to donate education or outreach items to YES, or with any questions about camp logistics or enrollment.
---
Browse More Stories
---
Share This Story