Cancer Program
Partnering for cancer prevention, screening and early detection, and survivorship
ANTHC's Cancer program collaborates with Alaska Tribal Health System partners to provide culturally responsive education, training, funding support and resources to prevent cancer, encourage screening and early detection, and support living well with and beyond a cancer diagnosis. These tools are intended to assist Tribal partners with enhancing their own cancer prevention, early detection, and survivorship efforts through planning, development and implementation.
A Comprehensive Cancer Plan guides the work and activities of the Cancer Program and its partners. The Cancer Plan recommends goals, objectives, and strategies to reduce cancer incidence and mortality in Alaska Native people. The priorities of the Cancer Program are to implement and support outreach, policy, system, and environmental change in cancer prevention, screening and early detection, and survivorship. The Cancer Plan also includes information and data on diagnosis and treatment, surveillance and research and palliative care.
---
Outreach and Education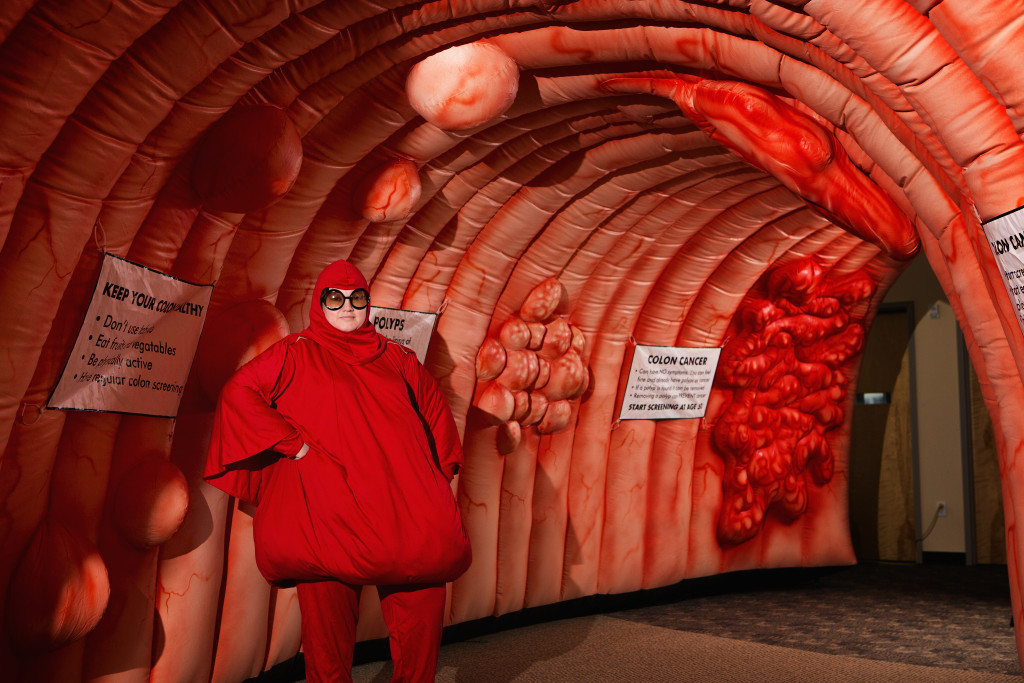 Nolan the Giant Colon is an engaging colorectal cancer education tool available upon request. It is an inflatable, interactive walk-through colon display that is 25-feet long, 10-feet high and 12-feet wide! Nolan the Giant Colon is part of the ANTHC Cancer program's work to normalize colorectal cancer and screening. Nolan is available for health fairs and events where a message of colorectal cancer screening can be shared. Nolan Jr., a smaller inflatable walk-through colon display, is also available.
The Traditional Food Guide for Alaska Native People is a popular, easy-to-understand nutrition information book for anyone diagnosed with cancer or other chronic disease.
The Traditional Food Guide Activity Book was developed for third and fourth grade children to better understand nutrition information and teach them about making healthy lifestyle choices.
Diagnosing and Treating Cancer is a 16-page booklet that provides newly diagnosed patients and their families with general information about cancer, how cancer is diagnosed and treatment options.
Life After Cancer Treatment is a 16-page booklet that provides information on the physical and emotional effects of cancer and adjusting to life after cancer treatment, as well as quotes from Alaska Native cancer survivors.
Email cancer@anthc.org for more information, to request a Nolan inflatable, or any publication.
---
Resources